Nena's novel approach is an inspiration to pupils
Published: Tuesday 11 May 2021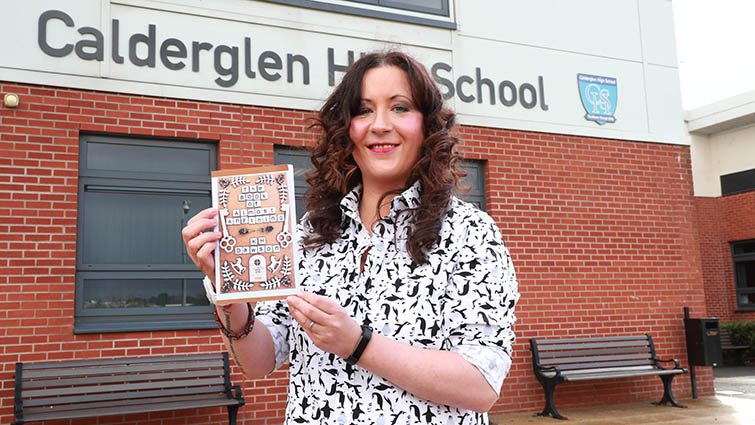 By day, Nena Hamilton-Stewart is a teacher at a secondary school.
But by night, she slips into her alter ego… children's author KH Dawson. When her daughter allows, that is!
Nena teaches English at Calderglen High School and so has a natural love of books. But six years ago, she took the plunge and started writing her own story.
She said: "I had written short stories before but never a novel, so I launched myself into it. It was a labour of love and I had to fit it around daily life, especially after my daughter arrived on the scene, but I persevered and I completed it in August last year."
Nena's novel, The Book of Almost Anything, centres on charming and sensitive Christopher Muir who appears to be an ordinary teenager struggling to fit in at his new school. However, he loses his confidence and develops a stutter when his mother, Margaret Muir, a teacher at the local primary school, dies suddenly in strange circumstances.
Since then, Christopher has struggled with strange blackouts and fainting fits, but his overpowering father, Aiden Brenton – a powerful, influential and downright nasty CEO at a global technology company – believes instead that his son has a wild imagination and merely makes up stories to please himself. He wants his son to stay with him at his strange and unwelcoming townhouse but, thankfully, Christopher's Nana Kathy – a wee, but powerful Scottish wummin – looks after her grandson at the wonderful family residence, an old house full of magic.
However, it is in the garden where Christopher's journey really begins: the smell of lavender draws him towards his Papa Tommy's old lean-to at the bottom of the huge lawn. Here everything changes for Christopher. What he discovers is far beyond any of his expectations…
Using the pen-name KH Dawson, Nena self-published The Book of Almost Anything on Amazon, finding it a fairly straightforward process, and since then it has gained ratings with an impressive average of 4.8 out of 5.
However, her bravest moment came when she faced her most honest critics – reading the book in class to her S1 and S2 pupils.
Nena said: "We often read books in class and when I tried The Book of Almost Anything, I didn't tell them that I had written it until after I asked if they were enjoying it. Fortunately, they said they really liked it which is great, as they will be brutally honest with their opinions!
"My principal teacher bought a class set and I created a unit around it, making resources that parents and other teachers might find helpful, and I try to make it as accessible as possible – for instance, both the paperback and e-book versions are priced at the lowest amount that Amazon will allow, and I have made it free on several occasions."
It has not only been Nena's pupils and line manager who have received the book well – head teacher Liz White was not only impressed with the book but by the achievement of completing a novel.
She said: "As a school, we are always encouraging innovation, creativity and entrepreneurship and this includes with our staff and partners, as well as our young people. Calderglen High is exceptionally proud of our new author and has already benefitted greatly as Ms Hamilton-Stewart made her e-book free to download as an Easter gift to our staff and young people.
"I personally feel that having a published author as a staff member in our school offers such a strong message to our young people about the value and vital importance of reading and developing the imagination.
"Ms Hamilton-Stewart is without doubt a role model for budding young writers! She has also offered a real morale boost for her colleagues and the English curriculum during a global pandemic, and our school community wishes her all the very best."
Nena's website not only offers more information but also includes audio files of the initial chapters, and the book itself is available to buy as a paperback or e-book on Amazon. However, all this concerns the existing book – what does the future hold for young hero, Christopher Muir?
"I had always envisioned it as a trilogy," Nena revealed. "I have already started the second book and am halfway through writing it, so rest assured that there are plenty more adventures for Christopher, and for the readers!"