Electric Vehicle charging hits new milestone
Published: Friday 26 February 2021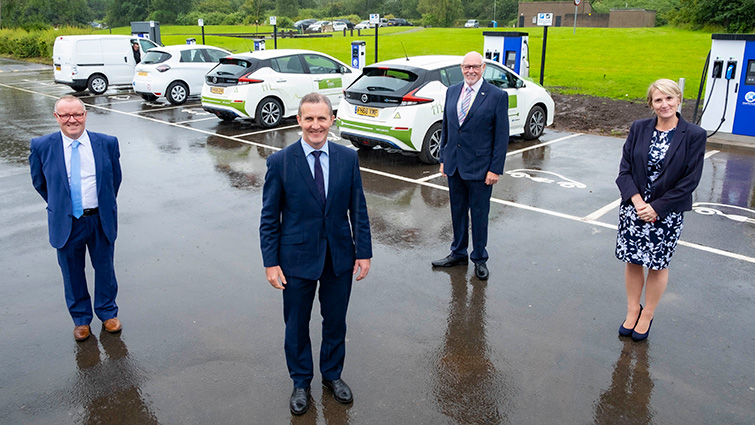 A revolutionary project that is transforming electric vehicle charging across Lanarkshire has now completed 10,000 charges.
'Project PACE', which was launched 18 months ago, is being delivered through a strategic partnership between SP Energy Networks and the Scottish Government and will create over 40 electric vehicle charging hubs by the end of spring this year.
The project will significantly increase the number of EV chargers across Lanarkshire, particularly the number of fast (22kW) and rapid (50kW) chargers, allowing more drivers to charge quickly.
Facilitated by North and South Lanarkshire Councils, in collaboration with Transport Scotland, the charging hubs have now been used over 10,000 times to charge electric vehicles across the regions, with PACE serving as a blueprint for how similar projects could be rolled out across the country.
Cabinet Secretary for Transport, Infrastructure and Connectivity Michael Matheson said: "I'm pleased to see the continued development of Project PACE and it's very welcome to see people charging their vehicles on 10,000 occasions since this work began. I know the new charging infrastructure will be a welcome benefit across Lanarkshire.
"The delivery of electric vehicle infrastructure is an important part of our green recovery. It provides work and economic stimulus across Scotland as we move to a net-zero economy. To maximise the economic benefits as we make that transition – we need to ensure we're delivering EV charging infrastructure as effectively and efficiently as possible.
"The project continues to show real promise as we consider how best to deliver EV charging infrastructure in the future. I look forward to the continued delivery of Project PACE, bringing new charge points to local communities and new insights as to how best we can deliver similar infrastructure – both at a scale and at pace, as we work to respond to the climate emergency."
Leader of South Lanarkshire Council, Councillor John Ross, said: "This is a hugely significant milestone and demonstrates there is a real need and demand for Electric Vehicle Charging points. We expect this demand to increase in the coming years which is one of the main reasons why we believe it's so important to be involved in Project PACE to help get our region EV-ready.
"Through Pace we are significantly increasing the number of chargers in South Lanarkshire and helping to deliver the infrastructure needed to help meet this future demand – it is a perfect example of partnership working.
"We recognise that to encourage people to use electric vehicles the infrastructure has to be there and this is another important step on that journey."
The popular charging hubs have already provided 183MWh of energy to electric vehicles and enabled around 640,450 miles to be driven using clean, green transport, removing up to 111 tonnes of CO2 which would have been emitted to the atmosphere had this mileage been done by petrol or diesel cars.
It total, 21 of the PACE charging hub sites are now live with a further 23 expected by springtime, across North and South Lanarkshire. One of the newest sites that has gone live at Chatelherault Country Park has enough chargers for 14 cars at any one time, making it the largest charging hub in South Lanarkshire. Locations that will see new hubs open soon include Lanark Lifestyles and Getting Better Together Shotts.
PACE represents just one of the projects SP Energy Networks is delivering to help the transition to renewable energy sources in 2021, as Glasgow prepares to host the COP26 climate change conference later this year.
Scott Mathieson, Director of Network Planning and Regulation at SP Energy Networks, said: "The benefits of Project PACE are clear to see and as we pass the 10,000th electric charge milestone, we're seeing the scale of uptake across Lanarkshire."
SP Energy Networks has strategically chosen locations for each charging hub that make the most of the existing electricity network in places that are likely to be of use to members of the local community.
As well as benefits for the environment, the project offers substantial savings for customers, with each PACE charging hub expected to save between £30,000 and £60,000 on electricity grid connection costs per new location. This equates to a total of between £1.3million to £2.6million of taxpayer money saved across all the planned sites.
Nicole Paterson, Head of Environmental Assets at North Lanarkshire Council, said: "This level of usage of the electric charging points shows clearly the increasing popularity of electric vehicles and the demand for charging points in Lanarkshire."