Employability project makes sure Isla's voice is heard
Published: Tuesday 23 February 2021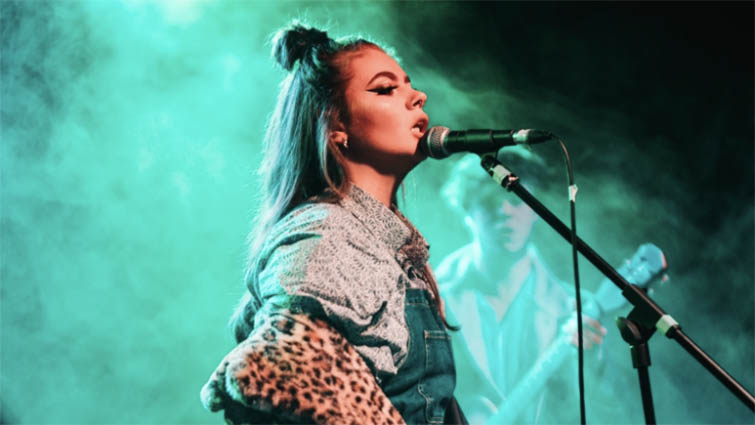 A Coalburn teenager who 'lives and breathes' music can follow her dream career thanks to support from an employability project.
The Connect2Renewables Employability initiative - delivered by South Lanarkshire Council and Banks Renewables – has enabled 19-year-old Isla Macdonald to study in Glasgow by part-funding her course fees and travel costs.
Paid for by a proportion of the community benefit from Middle Muir Windfarm, Crawfordjohn and Kype Muir Windfarm, Strathaven, the fund aims to help people living in 24 of the area's most rural communities, which fall within a 10km radius of either windfarm.
Applications are invited from anyone over school leaving age who is keen to retrain or looking for work, and, in addition to financial help with travel, training or childcare, offers employability advice and opportunities to learn new skills or re-train.
Isla, a former pupil of Lesmahagow High, is one of more than 300 local people already receiving help as she studies for an HND in Music Performance at the Academy of Music and Sound in Glasgow.
Having successfully won a place on the course, Isla found that it was only partly funded by SAAS and faced the prospect of losing out on the opportunity. However, a successful application to the Connect2Renewables Initiative has put Isla back on centre stage by covering the annual balance of her course fees, as well as supporting her with transport costs to and from college.
Now, the talented singer is excelling with course work, growing in confidence in live performance, and even working towards releasing her first single. And, it's the support from the fund that has opened the door to the career Isla has long been determined to follow, as she explains: "From a young age, I have been obsessed with music, I live and breathe it!
"Although I have the smallest room in the house, I have still managed to fit my piano, guitars, ukulele and much more equipment in there, and after a careers event at my school in S4, where I met some of the guys from the Academy, I was determined to take my passion for music to the next level.
"Having access to the funding has allowed me to attend the college that is best suited for me. As someone who has learning difficulties, I find larger classes and locations difficult and my college is the perfect size to allow me to get all the help I need. The fund also helps me pay for the travel costs of travel from what is quite a remote area.
"I plan to finish my HND course this year and continue on at the Academy of Music and Sound, to achieve my BA and receive my degree in music. I hope by then to be performing full time and making a living from something I love."
Councillor Gladys Miller, Chair of the council's Finance and Corporate Resources committee, said: "The initiative is delivered by the council and Banks Renewables as part of Banks' commitment to the South Lanarkshire economy and its communities, and operates alongside a variety of other local initiatives.
"The aim is to provide an 'open door' encouraging those people who need it most to get in touch and take advantage of what is a flexible and responsive programme.
"Isla's experience is one of hundreds of successful stories so far, and a key example of the type of circumstances that the fund can consider supporting. I am delighted that the initiative has been able to make a real difference to the life of such a talented young person, and I, for one, can't wait to see what she does next."
Robin Winstanley, External Affairs Manager, Banks Group, said: "Stories like Isla's really make us proud to be part of this initiative and our collaboration with the council. It's so important to us that renewables projects deliver benefits with a meaning to communities, and this is a great example of it. We wish Isla the best in her career and look forward to more progress with this exciting partnership."
Residents of any of the following communities are eligible to apply: Abington, Auchenheath, Blackwood, Boghead, Caldermill, Chapelton, Coalburn, Crawford, Crawfordjohn, Douglas, Douglas Water, Draffan, Drumclog, Glassford, Glespin, Gilmourton, Kirkmuirhill, Leadhills, Lesmahagow, Rigside, Roberton, Sandford, Stonehouse, Strathaven.
Examples of support that the fund offers include:
Bursary awards of £300 for anyone within the qualifying area starting College or University for the first time
Course fees including online where the course undertaken will improve employment prospects and where no other funding is available
£100 pre-employment support grants to cover expenses incurred by starting work
Payment of the first month's childcare expenses when starting paid employment
Full details of the scheme, eligibility criteria and advice on how to apply can be found on the council's website or you can email the team directly.