Book reassures children Santa is still on his way
Published: Wednesday 23 December 2020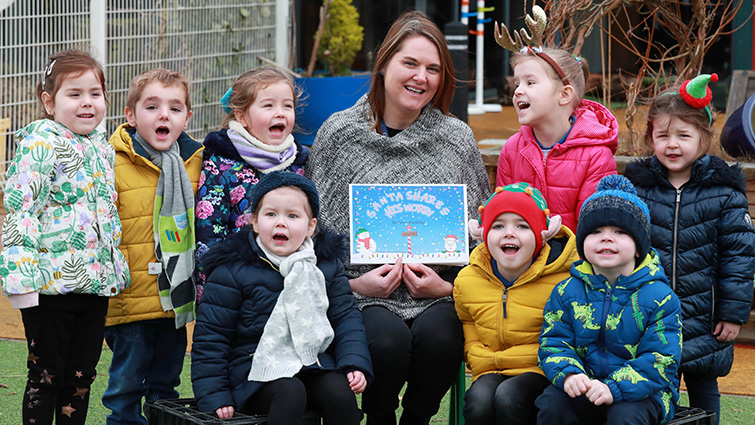 A nursery teacher has written and illustrated a short book which reassures children Santa will still be visiting this Christmas.
Karen MacMillan, an Early Years practitioner from Crawforddyke Nursery, asked the children if there was anything about the global pandemic that was worrying them.
The almost universal reply was: "Is Santa still coming?"
Karen decided it was the ideal opportunity to use her skills to pen the short story, called 'Santa Shares His Worry'.
She said: "Since the return to nursery in August, we have focused on the health and well-being of the children.
"One of the frequent topics that has come up is if Santa would still be able to visit.
"This led to the idea for a story to help reassure them all, and it is a feel-good story about Santa sharing his worry, because that is something we encourage the children to do if something is concerning them. He is then reassured by Mrs Claus, so her message gets passed to the children through the story."
Karen also paid tribute to the children for how they have reacted to the global pandemic.
She said: "We have been very proud of the children throughout this time - their resilience is amazing. We have had to sort out bubbles and routines for them, and they have adapted to it so well.
"It is inevitable that they do have worries, though, and so we have set up things like a recovery journal as link between nursery and home, and we already encourage parents to use books to encourage the children to talk, such as the Worrysaurus, who has a butterfly in his tummy.
"It is a great way to help them understand things and if Santa Shares His Worry helps any children here or elsewhere, then I will be delighted."
Chair of South Lanarkshire Council's Education Resources Committee, Councillor Katy Loudon, said: "This was a fantastic idea and well done to Karen for coming up with it.
"This year has of course been challenging for everyone, but it must be especially difficult for young children who perhaps don't fully understand what is going on.
"It's only natural that they would be concerned about Santa not being able to visit and I am sure Karen's book has helped reassure them that there will be at least some normality this year when they wake up on Christmas morning."