Adoption journey completes family for couple
Published: Friday 20 November 2020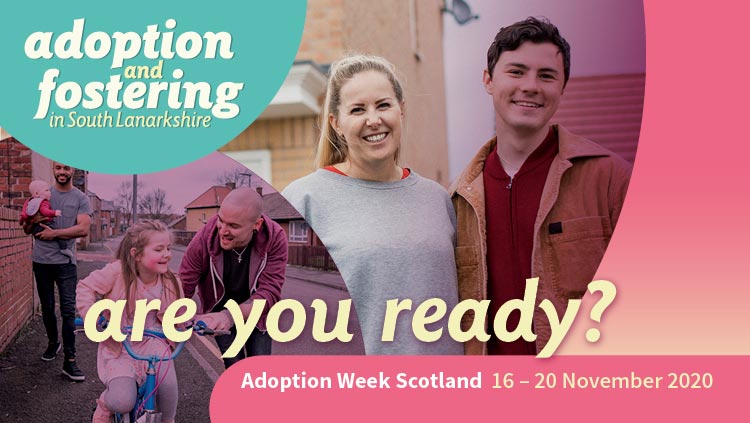 For any couple looking to start a family, receiving the news that they can't have their own children is a devastating blow.
It can take time to get over news like that, but for one married couple as one door closed another opened on a new and exciting path for them.
As Adoption Week Scotland draws to a close, The View spoke to John and Jennifer (not their real names) about the journey they have been on.
John explained: "Adoption was always an option for us, we knew that Jennifer would always struggle to have children.
"After we underwent fertility treatment, and we knew it wasn't going to be successful, we decided to look further into the possibility of adopting."
Jennifer added: "We got in touch with South Lanarkshire Council pretty soon after we had the news, and they sent us the information pack and advised us we would have to wait a period of time before continuing with the application.
"I understand this, because even if we were sure from the outset, there may be some people who would react to the news that they couldn't have children of their own by immediately thinking about adoption, then changing their minds.
"The pack was really informative and helpful, and we spent the time going over that and it just confirmed our initial decision."
Around six months after the initial contact, the council got in touch to arrange a house visit. Several more visits and phone calls followed, and after the correct checks and assessments had been completed, the couple were ready to progress to the next stage.
A pre-adoption group allows anyone who wishes to adopt the chance to find out in depth exactly what lies ahead.
John said: "There was a good mix of some wonderful success stories and how well adoption had worked for families across a huge range of backgrounds and circumstances.
"They also didn't shy away from telling you about the potential pitfalls – again this was really good to hear because like everything in life, there are no guarantees, especially with children.
"The most important thing was it was always about the children and what they needed, and how much a loving family environment can help them.
"The group sessions confirmed our decision for us and we knew we were committed to the adoption process."
Jennifer added: "It was also really encouraging to hear about the support mechanisms that are in place. Let's face it, there are always challenges any parent faces and it was a relief to know that you can always rely on the adoption team for help."
The couple had already thought long and hard about whether adopting siblings would be an option, and when the adoption team confirmed this was an option they didn't need to think twice.
Jennifer said: "We always spoke about having a family of two or three so we were delighted that there was the possibility of adopting siblings.
"There is an outdated idea with adoption that children are placed in homes from birth. That's not normally the case, as the children tend to be older and we were aware of that."
John added: "The only thing I wanted to be sure of was that they were of a pre-school age. As a teacher myself, I knew the additional stress of moving schools could have had a negative impact on them, especially when they were trying to settle into a new family environment."
Further meetings were held between the adoption team and the couple, and before long they were introduced to George and Erin (not their real names), a brother and sister who had been removed from their birth parents for their own safety at the ages of 18 months and five months respectively.
George had suffered from neglect as his birth parents abused alcohol, and Erin was diagnosed with flat-head syndrome – which can result from a baby spending a lot of time on their back. Investigations by the social work team found this was because she was not being picked up and cared for in the normal way, as both her birth parents continued to neglect their children for alcohol.
Jennifer said: "It was of course heart breaking to hear what they had both gone through, it was obvious they hadn't had the best of starts in life.
"From our point of view, we just felt incredibly lucky to have the opportunity to adopt a beautiful brother and sister who had been apart since they were five and 18 months old, simply because there wasn't a suitable foster family that could take both of them at that young age.
"The first few meetings between us all went really well, and even though they had been estranged for around three years, they clicked with each other almost instantly. You could see that sibling bond begin to get re-established very quickly and it was really lovely to watch it develop."
John said: "Their relationship just gets stronger every day, George has just turned five and Erin is four next month. Of course they do have their moments, like every brother and sister. In fact their last nursery report before George started school in the summer said how good they were at sharing – just not with each other!"
Jennifer said: "It has been an absolutely brilliant experience and we are enjoying every minute of being a family.
"We are determined to provide a loving, caring home for them both and can't wait to see them develop and grow with us being there for them every step of the way."
John was also keen to point out that the couple do not live in South Lanarkshire.
He said: "Because I am a teacher I thought it would be better to try and adopt from another area just in case I knew the birth family or relatives of theirs.
"I think it's important that people know you don't always have to adopt from the same area you live, again, that is one of the common misconceptions."
The focus of Adoption Week Scotland this year is adopting siblings and children with Foetal Alcohol Spectrum Disorder.
You can find out more about adopting and fostering in South Lanarkshire on our website or by calling 0303 123 1008.