Online activity programmes step up to meet level four restrictions
Published: Thursday 19 November 2020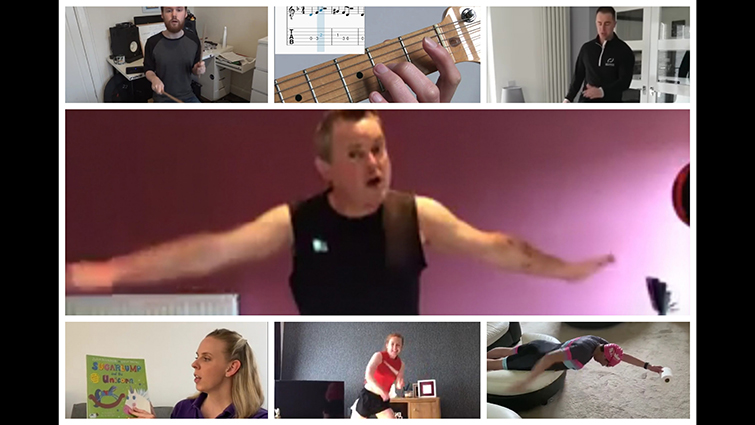 With level 4 restrictions now imposed for our area we are again heavily restricted in what we can do to keep active.
But although higher Covid-19 restrictions have again closed down many activities South Lanarkshire Leisure and Culture venues are still able to provide many of your favourites online.
Dedicated SLLC fitness coaches, arts tutors, library assistants and Active Schools co-ordinators have been and will continue to deliver their programmes online as they have been doing for many months now, ensuring everyone can access a wide range of activities from the comfort of their own homes.
In fact, so popular have these online activities been throughout the year, that more than 1.2 million people have viewed the workouts, with an online reach extending as far as Singapore and the USA.
And so many people have enjoyed the variety of classes that almost 2000 have shared them with friends and family who are also taking up what is on offer.
Accessing the classes couldn't be easier as anyone can see what is on offer by visiting SLLC's four Facebook pages where regular updates on upcoming sessions and alerts to let you join live classes are posted.
The chair of SLLC, Councillor Peter Craig, said: "Despite the latest restrictions which are now in place the team continues to strive to provide the very best service to keep everyone who wants to as physically and mentally active as possible."
And General Manager of SLLC David Booth, added: "Under the continuingly exceptional circumstances that we all find ourselves in again, I am again impressed by just how far our staff are going to ensure everyone can engage in their favourite classes from home.
"So please continue to check out our Facebook Live programmes for the wide range of activities on offer for all ages and fitness levels.
"There really is something for everyone, from fitness workouts, music, dance, drama and yoga to painting and healthy eating advice."
You can join the Facebook Live sessions or join them later on at a time suitable to your own daily work schedules.
And to make it easier to find the programme that suits or interests you, each video is available from the most appropriate of these themed SLLC Facebook pages:
Children's Activities in South Lanarkshire
Cultural Activities in South Lanarkshire
All videos are also linked on the main SLLC Facebook page.