Magic of the movies at Memorial Hall
Published: Wednesday 14 October 2020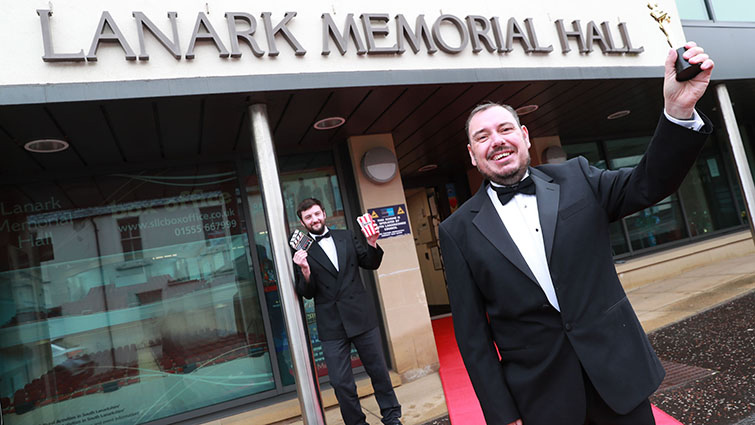 The latest big-screen blockbusters are coming to Lanark Memorial Hall from next week.
The new venture is part of the 'A Cinema Near You' programme and South Lanarkshire Leisure and Culture, in partnership with Regional Screen Scotland and INDY Cinema Group Ltd, will screen cinema releases every week until Christmas.
From 22 October to 24 December, films including the latest new releases from the big Hollywood studios will bring the magic of the movies to the venue.
'A Cinema Near You' is a two-year development programme to foster new local cinema provision across Scotland. It is supported by the National Lottery through Creative Scotland, and delivered by Regional Screen Scotland in partnership with Screen Scotland and Film Hub Scotland.
The programme was originally scheduled to run from May 2020 but due to the Covid-19 Pandemic was postponed.
General Manger of South Lanarkshire Leisure and Culture, David Booth, said: "I am delighted we will be able to offer local people the opportunity to watch some of this year's biggest movies right on their doorstep.
"With live theatre still not being permitted, all parties found an opportunity to re-open the doors of this multi-purpose and much-loved public building.
"The team at the Memorial Hall will be working alongside industry experts to install and run this cinema experience, ensuring a high quality visual and audio experience.
"With the furlough scheme coming to an end, this project provides opportunities to work for the venue staff and also leaves the building available to many of the other users and stakeholders of the Memorial Hall.
"We hope that this cinema opportunity will encourage new customers as well as existing ones to visit the venue.
"Of course, the safety of customers is of paramount importance and this is the venues' highest priority.
"The capacity of the venue have been restricted to allow for full physical distancing and an enhanced cleaning and management protocol is in place to ensure that all visitors are kept safe at all times.
"The regular front of house hospitality service has been enhanced and updated to take into account all of the additional requirements that the Covid-19 pandemic, so a warm welcome and excellent customer service are assured."
Robert Livingston, Director, Regional Screen Scotland, said: "At Regional Screen Scotland we're delighted that, through A Cinema Near You, we can not only assist the Lanark Memorial Hall to reopen, but also bring big new film releases back to Lanark for the first time in decades.
"Such a beautiful venue, in the heart of the town, is the perfect setting for sharing the magic of the movies in a safe and welcoming environment."

Ian Brown, CEO and Founder – INDY Cinema Group, said: "INDY Cinema Group are incredibly proud to be working in this partnership to bring cinema full time to the beautiful Lanark Memorial Hall.
"It is truly a great thing to be bringing the magic of cinema to a Lanark in these unique times."
Tickets and all of the details of the films being shown are available from the South Lanarkshrie Leisure and Culture Box Office or by calling the new box office number 01555 673199.
The first films will be screened from Thursday, 22 October at 1.30pm, 4.30pm and 7.30pm and include the action-thriller Tenet, family-favourite Trolls World Tour and British comedy-drama Military Wives.
Further details of the films being screened, along with dates and timings, will be available from South Lanarkshire Leisure and Culture's Facebook and Twitter pages.