Challenge Poverty Week highlights impact of pandemic
Published: Thursday 8 October 2020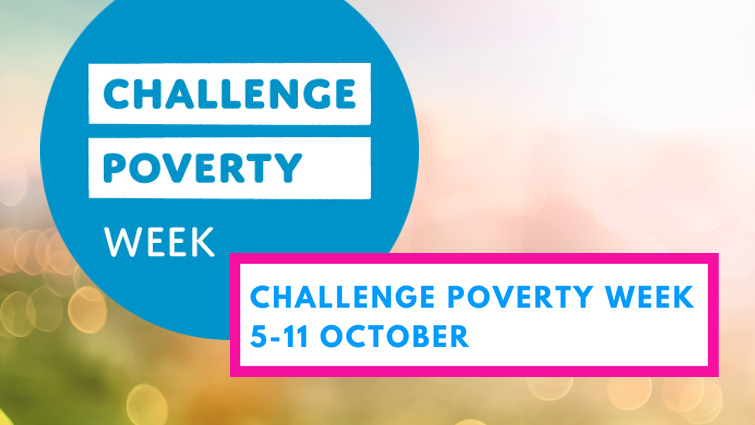 The pandemic has brought an added focus to Challenge Poverty Week 2020 (5-11 October).
Councillor Chalmers Chair of South Lanarkshire Community Planning Partnership said: "As Challenge Poverty Week draws to an end we are reminded that poverty is a daily reality for far too many people. Right now a million people in Scotland lives are restricted by poverty, that's just wrong and unjust.
"A quarter of those people are children just setting out on their life journey. Every child deserves every chance and that is why a collective, concerted and sustained effort is required to challenge poverty and tackle its root causes. Poverty is far reaching and indiscriminate, the pandemic has put this into sharp focus for so many of our residents"
In response to the Pandemic 48,600 people in South Lanarkshire were placed on the UK Government's furlough scheme, this is the fourth highest number of a local authority in Scotland.
Between March and August 2020 unemployment claimants in South Lanarkshire rose by 97.5% - the highest level recorded for 26 years.
Cllr Chalmers said: "The pandemic has led to a reduction in income for many families and individuals. People who have not previously claimed benefits may now be having to do so.
"Knowing where to turn to and how to find out what support is available is vital and South Lanarkshire Council and its partners have been working hard to help.
"Timely referrals to advice services can have an immediate and positive impact on the finances of individuals and families."
Information on a range of money advice and other services will be found on the managing your money pages of the South Lanarkshire Council website.
Much more needs to be done to raise awareness and increase uptake of entitlement. We all have a role to play in this irrespective of our role or work setting, because accessing the right service at the right time can have massive benefits.
South Lanarkshire's Money Matters Telephone Advice Line for pregnant women and young families received 811 referrals from midwives and health visitors and secured on average £2,569 for those who engaged with the service.
Last year Hamilton Citizens Advice Bureau generated £1,649,783.43 in financial gain for local people during the same period Rutherglen and Cambuslang Citizens Advice Bureau generated £2,330,554.51.
Poverty is fundamentally about a lack of income. At the moment 23% of children in South Lanarkshire are living poverty and over 50% of families in poverty live in households where at least one adult works.
Cllr Chalmers said: "We want to make sure that our Local Child Poverty Action Plan makes a difference to all South Lanarkshire families, the report builds on current actions and good practice and reflects a stepping up of efforts to meet the unprecedented challenges facing families."
Some significant ambitions and actions within the plan include:
Enhanced employment support for parents on low incomes to enhance their career opportunities
Improving support pathways to families in financial crisis
Increased provision and uptake of funded early learning childcare entitlement for 2 and 3 year olds
Ongoing effort to streamline the referral pathways and ensure bespoke packages of employment support is available for all care experienced young people
And all schools will establish a Cost of the School Day Policy by the end of the academic year 2020/21
A full copy of the plan can be found on the South Lanarkshire Council website.