Growing own food helps inspirational Amanda
Published: Thursday 24 September 2020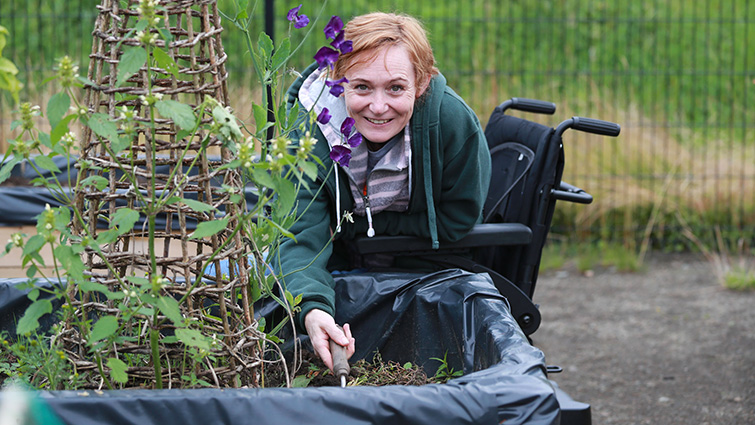 An East Kilbride woman credits exercise with helping her to accept her 'new life' 20 years after a diagnosis of MS.
Forty-eight-year-old Amanda Barrie was first told she had Multiple Sclerosis in 1991, aged just 20. And for the intervening two decades, which saw her retire from her job and give up her driving licence, she struggled with the roller-coaster of symptoms and emotions of her disease.
However, over the last year or so, Amanda has turned a corner, embracing countless new opportunities to become more physically active, including keeping her own veg patch, courtesy of the raised beds at the council's Murray Recreation site.
And, having successfully regained her driving licence last year, Amanda, who uses a powered wheelchair, has been able to fully embrace the chance to cultivate her own plot in the great outdoors.
Amanda has continued to use the raised beds, which have remained open following government guidance throughout the pandemic, crediting her time there as a boost not only to her physical, but mental health.
She added: "Twenty years after my diagnosis, in 2011, I trained for six months and completed the Great North Run. Just three years after that I had to medically retire from work and in 2018 had to give up my driving licence.
"I was at a really low point, and I withdrew for a number of years from all but immediate family and medical professionals.
"Then in January 2019 I started going to daily sessions at the Physical Disability Rehabilitation Unit (PDRU) at the Queen Elizabeth University Hospital, and within just a couple of weeks began to feel more energised and enthusiastic. In fact, I couldn't remember the last time I felt so physically good.
"I understood why at every medical appointment, exercise was stressed as so important, and, not only is it possible to exercise with MS, it's one of the best things you can do for yourself.
"When I heard about the opportunity to grow my own food, something I thought I might never do, I was determined to give it a go and, like so many of the other activities I have resumed recently, it genuinely enriches my life.
"It has given me access to the outdoors, fresh air, and a sense of community … Not something you get from sitting indoors behind your PC day in and day out.
"It is a learning curve - from weeds to wild flowers to fruit and veg and advice is given freely from other plot holders.
"But again, being able to be outdoors and 'productive' - it helps with my self-esteem. it's something I can still 'do' - the raised beds are perfect for this. Don't get me wrong, exercising with MS is not easy but to me, the prize was absolutely worth the struggle."
Murray Recreation is the first dedicated raised bed site in South Lanarkshire, housing 70 plots, and developed to ensure that the council can make food growing not just affordable, but accessible, to all, including those unable to look after a traditional allotment.
This work was just one project undertaken as part of the council's obligations under the Community Empowerment (Scotland) Act 2015, and also includes:
• An allotment site at Fernbrae Meadows in Cathkin
• Planning consent granted to develop a site at Lammermoor, East Kilbride
• Work with the Friends of Strathaven Park to develop a small number of raised beds for community use in Strathaven Park
• Discussions with a local group about working in partnership to redevelop the former Burnhill Sports Centre
Councillor John Anderson, Chair of the Community and Enterprise Resources committee, said: "We are working towards becoming a Good Food Council and allotments and food growing in general contribute to this.
"Unfortunately the covid-19 outbreak has delayed our plans somewhat, most significantly in the discussion and agreement of our draft Food Growing Strategy.
"However, I'm delighted to see that the good work already started in our allotment sites has been able to continue safely despite the uncertainty of restrictions of lockdown.
"Food growing can help transform under-used and derelict land and improve sustainability for local communities, and at the same time enhance biodiversity, create new environments for wildlife, reduce our carbon footprint and improve soil quality

"Allotments and community growing areas encourage healthy lifestyles through the ability to grow your own food, and of course, the associated exercise benefits are a boost to mental wellbeing.
"A raised bed requires less time commitment and is less physically demanding so opens up this activity and opportunity to those with disabilities such as Amanda's and her story tells you all you need to know about why moving forward with our innovative strategy is so important."
The council owns and manages three allotment sites and one raised bed site, at Allers in East Kilbride and Fernbrae Meadsows, Cathkin and Richmond in Rutherglen, as well as the raised beds at the Murray recreation ground.
There is currently a waiting list for all sites, but you can find out more about the service, its costs and responsibilities, and how it fits into our draft Food Growing Strategy.