Results day visit from Deputy First Minister
Published: Tuesday 4 August 2020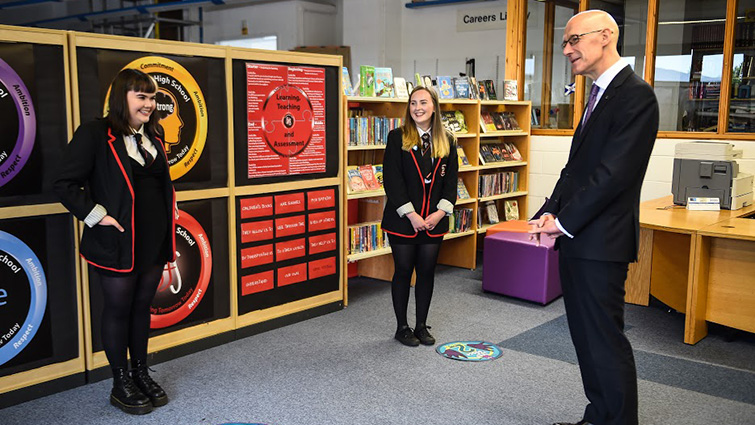 Deputy First Minister John Swinney visited a Rutherglen school today as pupils across the country received their exam results.
Mr Swinney met senior pupils at Stonelaw High School to discuss their results and how they dealt with the challenge of learning during lockdown.
He also took part in a video call on digital learning platform e-Sgoil with pupils from around Scotland to congratulate them on their results.
Mr Swinney said: "In the face of an incredibly tough few months for pupils and teachers, we can today celebrate the achievements of all learners. Young people have received awards that recognise their hard work and allow them to move onto the next stage in their lives.
"Scottish exams have never before been cancelled. I am immensely grateful to all teachers and lecturers who worked incredibly hard to assess achievement this year, and to the SQA for developing the certification model - without either, young people could not have received qualifications.
"There was a rise in pass rates at National 5, Higher and Advanced Higher. While comparisons with previous years need to be considered carefully, given the disruption to learning this year this is a good set of results for our learners. I am pleased to see the number of skills based awards, that teach vital knowledge and experience valued by employers, rise by 18% to 64,221."
Tony McDaid, South Lanarkshire Council's Executive Director of Education, said: "It was a pleasure to welcome Mr Swinney to Stonelaw High School today.
"This year has of course been an unprecedented one because of the public health crisis and it presented a very unique and challenging set of circumstances, particularly for those sitting exams.
"Because of this our schools submitted predicted grades to the Scottish Qualifications Authority and today our young people will be finding out their results.
"Early indications are that overall results are positive.
"It is important to recognise that the traditional examination courses and exam results are only one part of what is known as the Senior Phase of education, where we recognise and support young people to follow individual learning pathways, which lead to success in a range of awards, like the Duke of Edinburgh and qualifications in other areas which provide entry to the world of work, modern apprenticeships, further education, skills for work courses, digital learning and other individual and customised learning pathways.
"In instances, where any young person may not get the grades or qualifications they set out to achieve, I fully understand they will be disappointed. However, I would like to reassure them that support and guidance is on hand to help them to talk this through and to build on their achievements in a positive way.
"Anyone looking for help or support can contact Skills Development Scotland on 0808 100 8000 or go to the My World of Work website."