Lanark set for broadband speed boost
Published: Friday 31 July 2020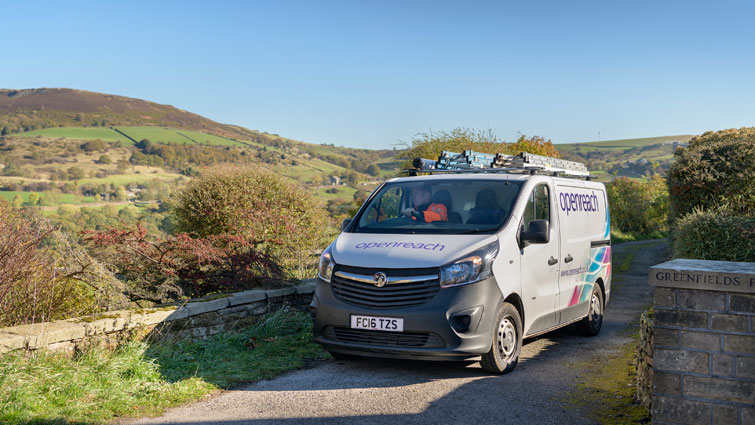 Openreach has outlined plans to extend ultra-reliable and gigabit-capable access in Scotland and Lanark is on the list.
The telecom company is to make Full Fibre broadband available to thousands of what it describes as 'harder to reach' homes and businesses.
Lanark is one of 60 small and rural towns and villages across Scotland set to be upgraded by Openreach, without taxpayer subsidy, and it's hoped having access to some of the fastest broadband speeds in Europe will boost their post-Covid economic recovery.
Work is expected to get under way in many of the announced locations within the next 12-18 months although, due to the size of the build, some places will see work continue into 2024.
The South Lanarkshire town is part of a wider announcement to make the new technology available to a further 3.2 million premises in the UK's hardest to reach 'final third'.
South Lanarkshire Council Chair of Community and Enterprise Councillor John Anderson said: "It is great news for Lanark and surrounding communities that the town has been included on this latest phase of the roll-out of Full Fibre broadband.
"This heralds the delivery of an infrastructure improvement that will support tangible economic and social benefits for local people and businesses."
The build is at the part of a £12 billion investment by Openreach's which aims to build 'Full Fibre' infrastructure to 20 million premises throughout the UK by the mid-to-late 2020s.
Robert Thorburn, Openreach's Partnership Director for Scotland, said: "We've already upgraded hundreds of thousands of homes and business across Scotland to Full Fibre. As well as keeping the existing network running throughout the Covid-19 crisis, our engineers have, safely and with social distancing in place, continued building the new infrastructure to make sure that as lockdown restrictions ease, our network is there to support families, businesses and the economic recovery.
"People can check online and ask their broadband providers to find out more about the many benefits. Full Fibre is more reliable and more resilient – meaning fewer faults and more predictable, consistent speeds. It's also 'future-proof' to easily meet the growing data demands of future technologies."
Recent reports have identified that there are clear economic benefits to building Full Fibre in more rural areas
The Scottish Government's Connectivity Minister Paul Wheelhouse said: "Digital Connectivity has played a vital role in supporting our efforts to keep people safe and connected during lockdown, and will play a pivotal role in plans for our strategic economic recovery from the pandemic, maintaining jobs and livelihoods and creating new skills and opportunities.
"This rollout of gigabit-capable full fibre broadband access enabled by Openreach to these more rural areas is welcomed. Commercial developments like these all play their part in giving Scotland access to superfast broadband and complement the work that the Scottish Government is doing in the Reaching 100% Programme to deliver superfast access for all."
Openreach has already built Full Fibre technology to more than three million premises across the UK – including more than a quarter in the final third of the country. More than 120,000 homes and businesses have also signed up to Openreach's Community Fibre Partnership CFP programme.
A CFP enables the company to work with a local community to build a customised co-funded solution and bring fibre broadband to areas not included in any existing private or publicly subsidised upgrade schemes.
The company is publishing an extended list of 251 locations in the final third where it will build the new network over the next three years.3 The data provides more clarity on its plans - giving greater certainty to local authorities, investors and customers – and supports UK and Scottish Government strategy to accelerate commercial investments in full fibre etworks throughout the UK.
To view the full list of towns and villages included in the announcement, please visit https://www.openreach.com/fibre-broadband/.
People interested in seeing whether they can upgrade their broadband can see what's available in their area by entering their postcode into our online fibre checker.