Facebook initiative takes Men's Shed message worldwide
Published: Thursday 30 July 2020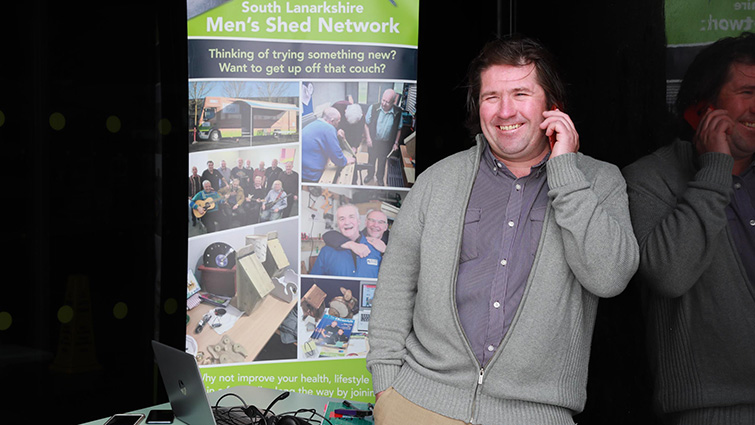 A Facebook page is uniting Men's Shedders around the world and one of the first to feature on it is our own Paul Creechan.
Paul is a Development Worker with the council's Seniors Together team and works to guide and expand the Men's Shed project to communities across South Lanarkshire.
Among his work has been to take the Mobile Men's Shed, a converted bus that demonstrates what a men's shed can offer, around towns and villages – an undertaking that was pioneered in South Lanarkshire and has drawn favourable attention from far and wide.
However, despite his normal Men's Shed work being curtailed during the Covid-19 restrictions, Paul has managed to take the message to even further afield after having been interviewed on a Facebook page that reaches across the world.
He said: "A new page was set up on Facebook, Shed Sans Frontières, by Nathan Sarea, who is the Chairman of the UK Men's Shed Association. He is in Wales, but Sheds Sans Frontières has members from not just across the UK but also from Ireland, across the Atlantic and Europe, amongst others.
"The idea was to get shedders around the world talking and sharing ideas and experiences, and as part of that Nathan is hosting a series of video interviews over Zoom, called Meet the Shedi. He invited me to be the third person to be interviewed for that, and it went great – Nathan was very complimentary about the Men's Shed scene in South Lanarkshire and although we chatted for about two hours, it felt like only a fraction of that."
Paul was delighted not just to offer others the lessons learnt in South Lanarkshire and information on the initiatives that have been run, but also to see the response that the interview received.
He added: "The interview has so far been viewed by more than 1400 people and there have been some lovely comments from people as far afield as Canada, the USA, Australia… and Nairn!
"It is reassuring and encouraging to know that people from such diverse places think we are on the right lines here, but it is also great to know that what we do here can help shedders elsewhere, and I am grateful to Nathan for giving me the opportunity to communicate this to so many people globally."
Paul had also featured at the start of lockdown on an internet radio show, Shed Happens, a project by Froome Shed, supported by the UK Men's Shed Association, to increase the reach of the movement and help more people during lockdown.
He felt that opportunities like that and Sheds Sans Frontières are valuable also for the benefits they can bring to South Lanarkshire shedders.
"Making links like we do through these sort of things can only help locally when we come fully out of lockdown,' he said.
"For example, because of the work involved for those shedders who set up and run a shed in each location, we tend to have to focus on our own experiences.
"However, we hope there will in the future be opportunities for things like shed exchanges, which will let shedders learn from each other and build even greater social networks, both of which can be hugely helpful."
Men's Sheds operate in communities across South Lanarkshire and offer all men, including those who are retired or out of work, a chance to pursue hobbies and pastimes and share skills while also relaxing and socialising.
Men's Sheds are informal and no two need be the same, with each one developing in the way most suited to its particular members.
There are no set activities – for example, woodwork, engines, cards, darts, electronics, photography, cooking and lathe work are all popular pastimes, all with frequent tea breaks and a healthy dose of chat and laughter.
Anyone wishing further information on Men's Sheds in South Lanarkshire can email Seniors Together while a further flavour of what can be offered is available on Facebook and in a short film on the council's YouTube channel.
Paul's full interview for Meet the Shedi can be found on the Sheds Sans Frontières Facebook page.