Free sanitary products helped thousands during lockdown
Published: Wednesday 22 July 2020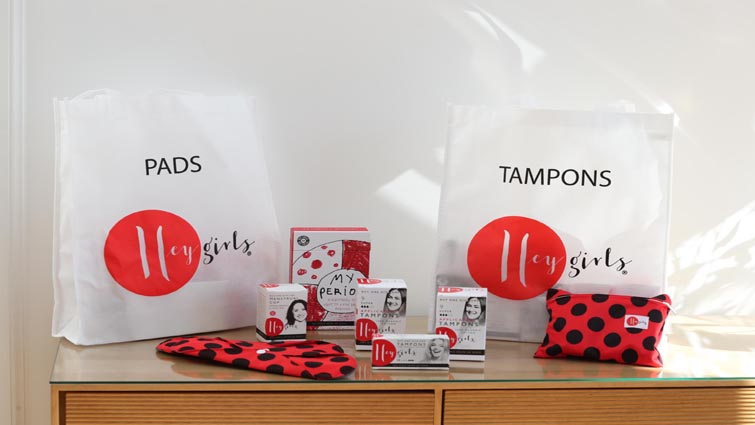 More than 2000 women and girls across South Lanarkshire have been able to access free sanitary goods during lockdown.
More than 2000 women and girls across South Lanarkshire have been able to access free sanitary goods during lockdown.
Thanks to a partnership with social enterprise, Hey Girls, thousands of items have been made available to the council to be distributed in packs by community volunteers and groups. A further benefit of this link-up sees a box donated to girls or women in the UK living in period poverty for each one supplied to the council.
In June alone, 1736 people were able to get free sanitary provision packs in South Lanarkshire. And to the mid-point of July a further 300 have been requested.
South Lanarkshire was an early champion of the Scottish Government's Access to Free Sanitary Provision scheme and, prior to the outbreak, made products available across its offices, centres and schools. However, with lockdown closing all but essential places, this access risked being restricted and disadvantaging those most vulnerable in our communities.
So, to ensure equity of access, and as part of the council's community response to the pandemic, a team of volunteers ensured same or next day delivery of packs on request. Initially carried out by those working for the community wellbeing team, the packs are now delivered almost entirely by voluntary organisations across South Lanarkshire.
Chair of Finance and Corporate Resources, Councillor Gladys Miller, is delighted at the success of the distribution programme. She added: "Our community wellbeing helpline has been a lifeline for those who are vulnerable, shielding or experiencing financial hardship, and volunteers have been working hard to make sure that no-one goes without vital products.
"For women and girls, access to sanitary items is crucial, and for those experiencing period poverty, the situation is even more acute. The fact that we have been able to supply packs to those who need them, and continue to do so, with the support of a range of voluntary groups is so important.
"The response from the community to helping with this effort has already been incredible and we would be keen to hear from any other groups or organisations who can help us continue the distribution across South Lanarkshire."
Packs can be requested via community wellbeing helpline which is available Monday-Thursday 8.45am-4.45pm and Friday 8.45am-4.15pm on 0303 123 1009. Alternatively you can send the team an email where voluntary groups keen to help with the effort can also get in touch.