Provost pays tribute to community heroes
Published: Friday 17 July 2020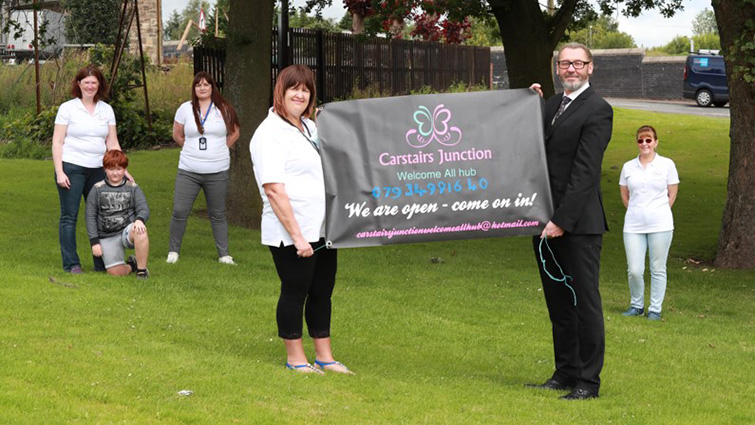 Volunteers have been vital in delivering assistance during the pandemic.
Throughout South Lanarkshire local individuals and organisations have stepped up to help.
Provost Ian McAllan paid tribute to their hard-work, dedication and selflessness as he visited one such group to hear about their work and thank them for their service.
The Provost met with members of the Carstairs Junction Welcome All Hub.
He said: "This group has been an absolute beacon of hope both supporting and uniting a community to help people through this difficult time.
"They were already deeply involved in local life before the coronavirus pandemic but during this time they have had a laser focus on where they can do the most good helping individuals and families and inspiring others to get involved.
"They are brilliant at working with other groups and organisations, including South Lanarkshire Council and Healthy Valleys, to maximise the community impact.
"I am proud to say that while they are a genuinely unique group of individuals their story is not unique and there is a similar effort underway to help others in every area of South Lanarkshire."
Chair of Carstairs Junction Welcome All Hub Dorothy Watson said; "It was a real boost having the Provost drop in and to hear his kind words. We don't ask for any recognition and do this because we want and need to help others in our community but it is great to feel we are part of a much bigger effort.
"People we have helped tell us we have thrown them a lifeline during this difficult time, while others have thanked us for giving them an opportunity to directly support those in our community facing tough times.
"We are really grateful for the support we have received from people and organisations. The council has been very helpful and supportive, especially in letting us use the village hall as a base and the hall-keepers are absolute wonders."
Carstairs Junction Welcome All Hub was first established two years ago and gained charity status the week before lockdown began.
The Hub was established to drive community empowerment and have helped with local housing issues, hosted community events, provide benefits advice and much more. Where they cannot provide a solution themselves they have become adept at helping find out who can and how to reach them.
Dorothy said; "Right now we have to focus on the here-and-now of a community response to coronavirus but we are already planning our role as we move more into the recovery phase, however long it takes we are going to be here helping."