You've got a friend in Graham
Published: Tuesday 14 July 2020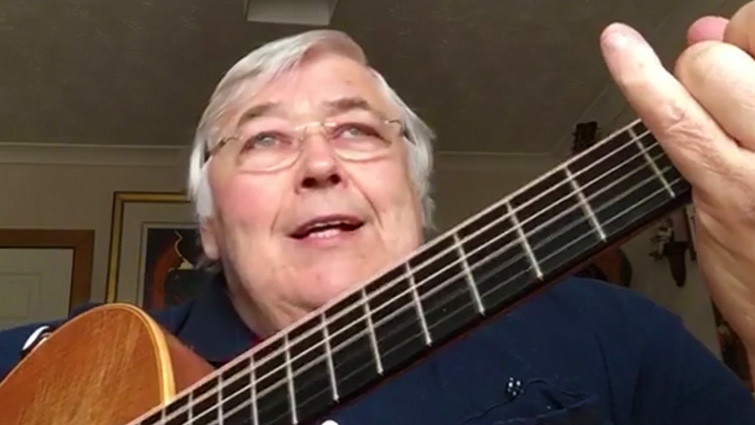 Local guitar hero steps in to help entertain South Lanarkshire Seniors.
With a lifetime Interest in music that has seen him and his folk group The West Folk share the bill with the likes of Billy Connolly, Stonehouse musician Graham Curtis took the plunge into online performance to help people get through the pandemic.
A keen committee member of the Stonehouse Men's Shed group, Graham has been recording classic songs to be uploaded to South Lanarkshire Seniors Together's Facebook page and he has even been taking requests.
Graham said: "I think a lot of us in the older age group have seen lockdown as a push to embrace new technology so we can have video calls with our grandchildren or shop online. I have perhaps taken it a little further but it has been good fun and people do seem to be enjoying it.
"My first video was 'You've got a friend' by James Taylor and I think that sums it up, we wanted to find a way of connecting people and cheering them up a bit and music is a great way of doing that.
"I have been playing guitar since my teens and I am 68 now, when I first moved to Scotland the folk scene was really taking off and I became very involved. It was an incredibly exciting time performing with entertainers of the calibre of The Big Yin, Billy Connolly.
"I am now a member of local group Holm Street playing a variety of music from the '50s to current day."
Graham's videos can be found on the Seniors Together Facebook page where there are also plenty of other posts to help keep you healthy and entertained.
Graham hopes to continue to support the wider community as we start on the road to recovery from the pandemic.
He said: "Men's Shed and similar groups are I think going to be vital as we go forward, people have been isolated in their homes for so long that that they will need help to reconnect and we can help them on that journey."