Shop safe shop local to help support local communities
Published: Friday 3 July 2020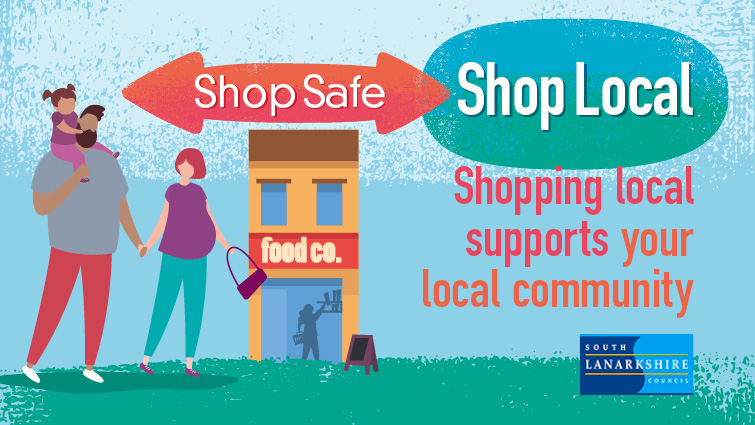 Shop safe, shop local – that's the message from South Lanarkshire Council as lockdown restrictions ease across the country.
Shops which have an entrance onto the street were allowed to reopen with social distancing measures and other guidelines from Monday this week.
But with warnings that coronavirus has not gone away, the council and local businesses are urging local residents to take advantage of the numerous shopping outlets on their doorstep.
As well as shopping in a safe environment, thanks to the steps that have been taken to protect customer and staff health, doing so will help local shops survive in our communities.
Chair of South Lanarkshire Council's Community and Enterprise Resources Committee, Councillor John Anderson, said: "We really appreciate the efforts everyone has made during lockdown and I am sure the vast majority of people will continue to adhere to the guidance issued by the Scottish Government.
"As the restrictions continue to be eased, we want to encourage people to support the local economy as much as possible.
"Many businesses have been badly hit by coronavirus, particularly those smaller, independent shops who do not have an online presence.
"Also, given the numerous messages that have made it clear that coronavirus has not gone away, our message is simple – shop safe, shop local.
"Our town centres are open, clean, accessible and are a link to your community.
"We want as many people as possible to return to our town centres but please also bear in mind the current physical distancing guidelines and adhere to them at all times.
"First Minister Nicola Sturgeon announced this week that the wearing of face coverings will become mandatory in shops from 9 July – please make sure you do so when visiting any of our town centre businesses. And don't wait until then, protect yourself and others by wearing them now if you can."
As well supporting the local economy, residents are also being encouraged to become "Town Centre Tourists", discovering and rediscovering the many things there are to do just a few minutes from their homes.
Councillor Anderson added: "Many of the local facilities provided by our town centre are up there with the best the country has to offer.
"Now may be the time to have a look at history trails, walks, buildings and other points of interest that are all on your doorstep."
Social distancing messages will be in place at key sites within town centres. This includes signage at key entry points, social distancing markers and protective barriers.
At the moment there are no charges for on-street parking in our town centres. Please be aware that this may be re-introduced as part of the council's recovery plan, so check the council website or SL View for any updates.