Four projects secure £1.2m to make journeys safer
Published: Monday 22 June 2020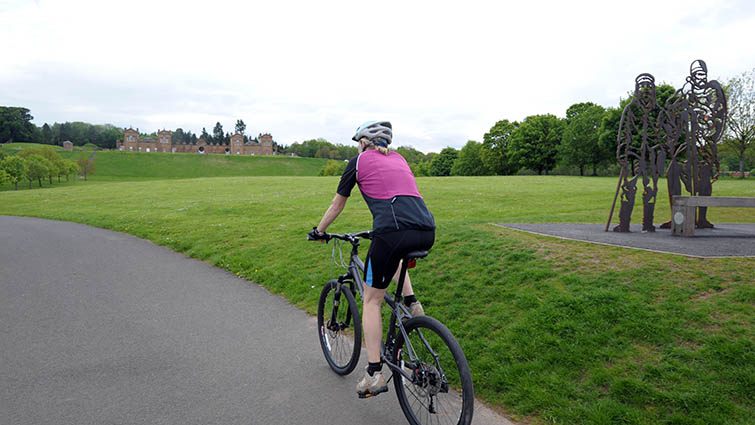 Spaces for People has provided £1.2million for four council projects as we prepare to emerge from lockdown.
Funded by the Scottish Government and managed by Sustrans Scotland, the programme will allow the council to implement measures focused on protecting public health, supporting physical distancing, and preventing a second wave of the outbreak.
Work is now underway to develop the four projects.
The Route Enhancement / Expansion project will see £50,000 spent on specific areas where congestion takes place at certain points along our existing cycling and walking routes, especially at entrances to public parks, greenspaces, and other points of interest
The Active Travel Network, Pinchpoints project will see £300,000 invested in temporary measures on roads including Torrance Road, Brouster Hill, Cornwall Street and Churchill Avenue in East Kilbride. This will provide initially temporary cycle segregation to the town centre from the West Mains and Village areas to allow essential journeys to be made safely
The School Outdoor Environment / Spaces for People project will see £750,000 invested in temporary measures including road closures, car free school zones, barriers, carriageway lining, temporary markings, and signs. Pedestrian one-way systems will also be considered as well as reallocation of road space, alternative drop-off facilities and other suitable measures including behavioural change publicity
As restrictions continue to ease and more retail, food and business establishments open the £100,000 Town Centres / Spaces for People project will see a variety of interventions including behavioural change publicity, communications campaign, temporary signage, barriers, lining and markings and reallocation of road space.
Chair of South Lanarkshire Community and Enterprise Resources Committee Councillor John Anderson said: "Council officers have been working hard to find ways of allowing people to get out and about during the Covid19 restrictions and are looking ahead to managing the developing and evolving situation.
"Working with partners including those on the South Lanarkshire Council Cycling Partnership, officers have developed several concepts and ideas to enhance our active travel infrastructure network and promote behavioural change.
"It is important to stress however that these projects are just one part of the solution and everyone must take responsibility for their own actions and behaviour to keep our communities safe.
"I am really pleased that funding has now been successfully secured and officers can now develop the four projects further."