Awards highlight social conscience of pupils
Published: Monday 15 June 2020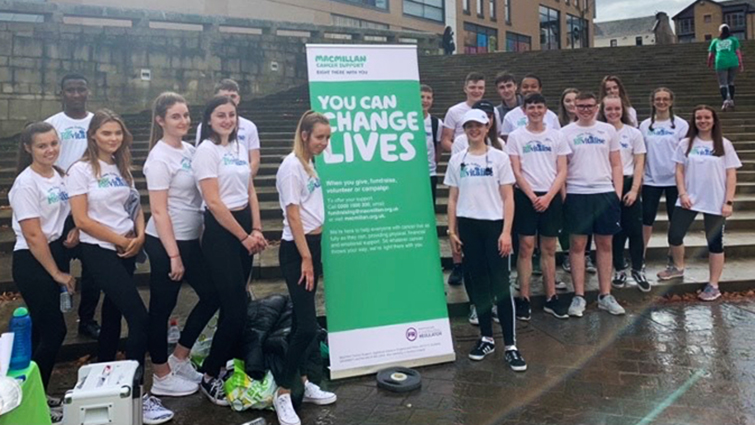 A South Lanarkshire team scooped two of the top awards in Scotland's Festival of Youth Enterprise.
Pupils from Hamilton Grammar took the awards for both Social Impact and People's Choice with their business – Revitalise – producing personalised, reusable water bottles.
Competing against schools and colleges from across the country the Revitalise team set out to deliver an eco-friendly solution to reducing plastic waste while ensuring people could enjoy the health benefits of being well hydrated.
In their pitch to the judges the Revitalise team said "We believe it's important that we encourage others to act upon this now for the wellbeing of our planet's future. After noticing the vast amount of wastage from single-use plastic in our school and community, we decided to produce personalised, aluminium water bottles.
"Our product not only helps reduce plastic pollution but is also affordable and suitable to help keep people hydrated on the go, in style."
Hamilton Grammar's Sarah Burrell was Link Teacher for the team. She said: "I am beyond proud of how the pupils have dealt with the competition given the current situation in particular Jaya Diarra, Neve Keachie and Hannah Cheales who participated in many zoom interviews for the virtual awards.
"They were not disheartened by the cancellation and ensured they were prepared to represent the school and Lanarkshire as best they could.
"I am absolutely delighted with how hard the pupils have worked to get this far and that their achievements have been recognised.
"We would also like to give a big vote of thanks to the Council's economic development team and in particular Eliot Jordan for the invaluable support and encouragement Revitalise received."
While Hamilton Grammar's Revitalise took the Peroosh People's Choice Award and the Social Impact Award they were not the only local success story with New College Lanarkshire entrants winning and being highly commended in a number of team and individual categories.
South Lanarkshire Council Chair of Education Councillor Katy Loudon said: "I would like to congratulate the Festival of Youth Enterprise for being finding a way to host a virtual award ceremony to recognise the fantastic achievements of the young people involved, even during these challenging times.
"Revitalise brought forward a very impressive business idea, and successfully put it into action. They were also very successful in galvanising school and wider community support for their project, which was key to them winning the People's Choice category. Thank you to everyone who took the time to vote for them."