Embracing the benefits of breastfeeding
Published: Monday 1 June 2020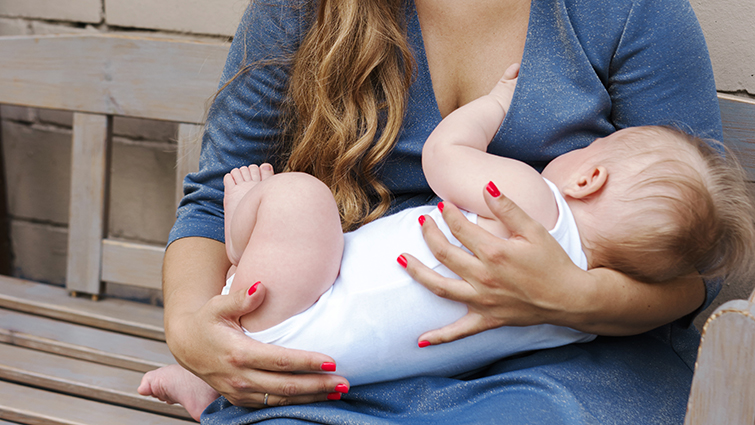 Promoting the health benefits of breastfeeding and ensuring mothers can do so anywhere are being encouraged across our area.
Highlighting the short and long term advantages of breastfeeding for both mother and baby is a key objective of the council which supports breastfeeding as the optimal infant feeding choice for all parents.
However, at this time, the main focus of the council's work continues to be responding to the coronavirus crisis.
Evidence suggests that even a moderate increase in breastfeeding rates can reduce chronic conditions including childhood obesity and Sudden Infant Death Syndrome (UNICEF – Preventing disease and saving resources: the potential contribution of increasing breastfeeding rates in the UK).
Women who breastfed also have lower risks of breast cancer, Type 2 diabetes, epithelial ovarian cancer and hip fracture later in life.
Working alongside other agencies, the council aims to improve rates from birth up to the six to eight week review period held by GPs as a critical indicator for the percentage of babies still being breastfed.
Using baby friendly initiatives mothers can receive this help through existing healthcare services which help support families with feeding and building up a close and loving relationship with their baby.
Councillor John Bradley, chair of the council's Social Work Resources, said: "Currently breastfeeding rates across South Lanarkshire are not as high as some other areas so I am delighted the council is continuing to work with NHS Lanarkshire and our other partners to further develop our existing strategies to increase these rates.
"Helping mothers to not only be able to breast feed their baby but to do so anywhere will be vital for increasing the rate and improve the health of mother and child in the years to come."
To that end premises and staff will need to be aware of the need to provide an environment where women can feel confident and supported to breastfeed anywhere in Lanarkshire.
Improving rates will also require an increase in the profile of the benefits of breastfeeding involving interaction across a variety of organisations and the public.
Director of South Lanarkshire Health and Social Care Partnership, Val de Souza, said: "To ensure breast feeding inclusion in everyday life, we will be working in partnership with NHS Lanarkshire, Education and other agencies and services.
"Developing opportunities to incorporate breastfeeding awareness into the education curriculum from nursery through to secondary school will help bring about increased change in culture and attitudes to breastfeeding."
At present low levels of breastfeeding are linked to a range of socio-economic factors including areas of deprivation, lack of knowledge and difficulty in continuing to do so while managing a need to return to work and other external factors that reduce a woman's ability to continue breast feeding her child.
Breastfeeding rates in Scotland are monitored and published annually. Scottish Government statistics show that the Scottish average of babies exclusively breastfed at the six to eight week review in 2017-2018 was 30.7% with South Lanarkshire showing 22%. However, more recent figures demonstrate a gradual increase in breastfeeding rates in South Lanarkshire.
Our Getting It Right For South Lanarkshire Children, Young People and Families Integrated Children's Service plan 2017-2020 highlights breastfeeding as an area for improvement.
Given the suspension of council committee business during the current public health situation, approval for promoting the benefits of breastfeeding was granted under delegated powers by the council's Chief Executive, in consultation with the leaders of the five political groups.