Service is helping vulnerable people with small repairs
Published: Friday 22 May 2020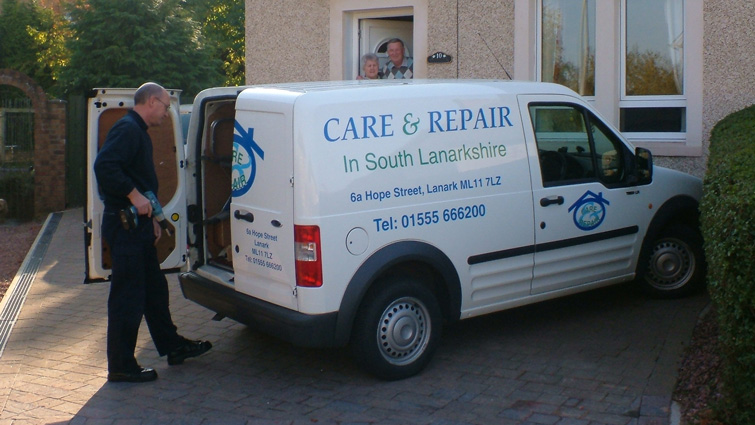 A service to help vulnerable people who have small repairs needed to their homes is running during the pandemic restrictions.
Anyone in South Lanarkshire who lives in privately-owned or privately rented accommodation and who is over the age of 65 or has a physical or mental disability or life-limiting illness is eligible to ask for assistance through the service.
Care & Repair, a registered charity, has operated in South Lanarkshire since 2004, offering a wide range of assistance. It has now restarted the Small Repairs Service, funded by the Community Wellbeing Fund, which is administered by the Corra Foundation to provide short term assistance during the Corona virus pandemic.
Jamie Burgess, Care & Repair's Manager in South Lanarkshire, said: "We have continued to operate since the end of March despite the social distancing restrictions. All staff who are able to do so are working from home and staff who need to visit clients are still active across the region.
"This has been a difficult time for us, but not as difficult as it has been for many of our clients who have not been able to access simple help that will make their day-to-day life a bit more comfortable.
"As a result, we have restarted the Small Repairs Service to help eligible people with urgent repairs and advice across South Lanarkshire during this period of lockdown and social isolation. This service is free of charge, although clients do have to pay for any materials required."
Under the service, clients will be assisted with a range of work such as, for example, changing a light bulb or a shower hose/head, unblocking a sink, bath, washhand basin or toilet, changing batteries in smoke detectors or changing the detectors, investigating problems with television sets not working, attending to home security and carrying out minor electrical work to sockets, plugs or light fittings.
Anyone wishing to enquiry about the Small Repairs Service can do so by calling 01555 666200 and leaving a message or by email.
The message should include the householder's name, telephone number and a brief description of the urgent small repair that is needed. A representative of the service will then be in touch to discuss the best way forward and, if appropriate, to arrange an appointment.
South Lanarkshire Council tenants and Registered Social Landlord tenants should instead contact their own repairs service in the first instance if they need assistance. If no help is available, then the Small Repairs Service may be able to assist.
Council tenants can email their Repairs Service for urgent matters.
Councillor David Shearer, Chairperson of Care and Repair, said: "At this difficult time for everyone, I am very proud of all the members of staff at Care & Repair in South Lanarkshire.
"They are not only continuing to look after our clients but now, with this new Small Repairs Service, they will offer much-needed assistance to those most in need.
"It is this sort of spirit that is most evident in times of the greatest hardship, and it is uplifting to see it and reassuring that people will receive the urgent help they require."