A first class response from Scottish Fire and Rescue
Published: Thursday 21 May 2020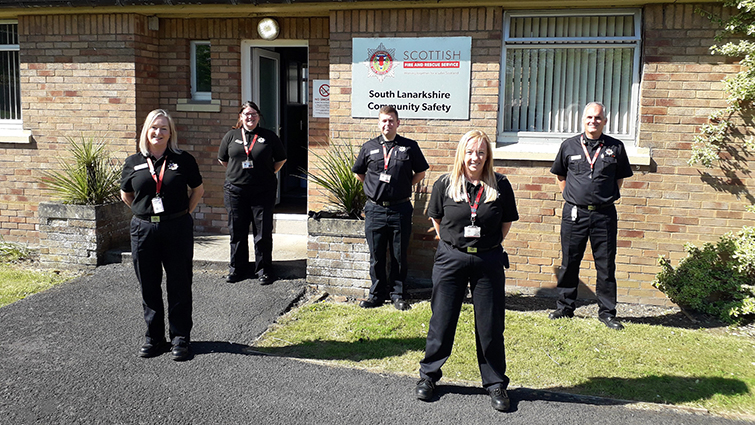 Across South Lanarkshire hundreds of people have taken on new roles to help manage the coronavirus response.
Driving this effort is strong partnership working between volunteers, communities, businesses, voluntary sector organisations and staff from a whole range of agencies, all of whom are working tirelessly for the best benefit of local people.
Scottish Fire and Rescue Service (SFRS) personnel are among those who have taken on new roles to meet the challenges facing communities, families and individuals.
Over recent weeks The SFRS Community Action Team (CAT) have made a huge contribution towards keeping South Lanarkshire residents safe, well and connected during these challenging times.
In normal times South Lanarkshire CAT's day to day role includes delivering education, community engagement opportunities, Home Fire Safety Visits and building relationships with partners and residents.
Liaison Officer/Watch Commander Mark Tweed said: "Engagement is key to what the CAT do both with the community and with partner agencies who can provide support, it was through this positive partnership working we were delighted to be able to step in to work with and assist South Lanarkshire Council response to the during the coronavirus pandemic."
CAT are working closely with South Lanarkshire Council's Community Engagement Team, local Covid response groups and voluntary sector partners to ensure that residents calling the councils Community Wellbeing Line (0303 123 1009) receive the right kind of support when they need it most.
They have taken on the task of delivering prescriptions across parts of South Lanarkshire and to date have supported 102 people, the lifeline service not only ensures vital medical supplies arrive on time it also takes the burden of worry away for many individuals and their families.
The team have also helped the CamGlenCovid group by helping make up food packages and delivering them direct to households.
In rural Clydesdale they are storing food packages in the fire station to support a quick response to emergency food provision.
With recycling centres currently closed the team have worked in partnership with South Lanarkshire Council Waste Management service, the CamGlenCovid Group and an external contractor to ensure the safe disposal of packaging from Community Hubs where food packages are stored and distributed.
They have been assisting LEAP, a South Lanarkshire based charity supporting older people.
In partnership with LEAP the CAT delivered 13,000 leaflets promoting awareness and access to an invaluable shopping service which supports people aged 50 plus with a longstanding medical conditions and all over 70's.
Taylor McKeown from LEAP said: "We are so grateful to the Community Action Team for doing this, we know there are still older people who haven't heard about our shopping or befriending services or think LEAP has closed during this crisis and we hope these leaflets change that"
"With the team's help we've been able to get our message out much more quickly."
For more information on the shopping service contact Taylor on 0141 641 5169 or email taylor@leap-project.co.uk
Chair of South Lanarkshire Community Planning Partnership Councillor Maureen Chalmers said: "I would like to thank the council's Community Engagement Team and all the organisations and individuals they are working with for their fantastic efforts at this time.
"The work highlighted here that has been undertaken by the SFRS Community Action Team has been outstanding.
"They are wholly committed to supporting the communities they serve and this has been demonstrated in so many ways over the recent weeks.
"They have been flexible and responsive in equal measure and their can-do approach has never wavered even when very tight timescales were at play.
"They have been so keen to offer their support whenever and wherever it is needed this is greatly appreciated, making an enormous difference to people's quality of life."