Online films encourage nature lovers in lockdown
Published: Wednesday 20 May 2020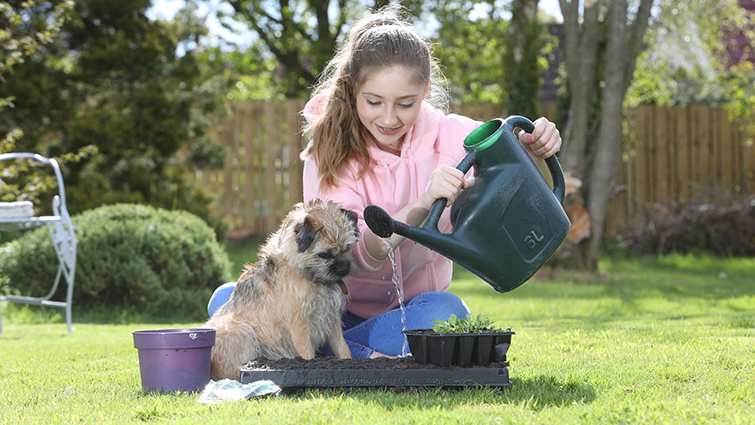 The council's Countryside and Greenspace team wants to inspire and create an army of 'citizen scientists' during lockdown.
The team, which includes our Countryside Rangers, would normally be working on our managed footpaths, local and national nature reserves, country parks and community greenspaces.
But, as with everyone else, covid-19 has changed the daily routine and the team has instead turned to social media to share their love and knowledge of nature with the South Lanarkshire public.
Through a series of 'Backyard Safari' videos, shot in gardens and local exercise areas, Rangers like Chris McGinley are using the opportunity to engage and share ideas and stories with a new audience who he hopes will learn, discover and report, creating a virtual network of citizen scientists.
Explained Chris: "We know that during the lockdown there has been a huge upturn in visitors to our open spaces, and a growing interest in managing and caring for community areas.
"This increased awareness of, and interest in, local beauty spots has become one of the unintended benefits of the current situation, and we feel a responsibility to harness this new energy and enthusiasm, creating opportunity to encourage interest in the wildlife that might be sharing those spaces."
The 'Backyard Safari' films are shared mainly on Facebook and are designed to be short, fun and educational. Working with mobile phones, Chris, fellow Ranger Kerry, and Biodiversity Officer, Louisa have tried to deliver a snapshot of their own back gardens and greenspaces.
Videos so far have focused on dandelions and why they are so useful to wildlife and us; a minibeast hunt, wildflowers in our roadside verges, and the many species of birds in our gardens.
Ideas for future films are led by viewer feedback and levels of interest, but Chris is committed to making sure all are topics that are familiar enough to encourage citizen scientists to continue to participate, discover and even record their findings.
"Gardens, for example", says Chris, "are like micro-nature reserves full of amazing animals that might be easily overlooked while we're rushing around getting on with our daily lives. During lockdown, however, more of us can take time to appreciate what is quite literally on our doorsteps."
The team hopes the films will particularly appeal to children and young people, who have spent the last eight weeks learning at home.
In the woodlands in Earnock, Hamilton, local children have led the way, creating drawings, collages and natural art to decorate trees in the forest before posting pictures on the local Community Website for others to see. The hope is that this encourages others to go out themselves to discover the artwork - much like an informal treasure hunt.
Thirteen-year-old Amelia Barrington (pictured) from Biggar, meanwhile, has been working hard to make the most of lockdown in her garden. She said: "We have a hedgehog which visits us at night but can be quite elusive to spot, so I've been trying to learn more about their habits. We have also put up two feeders to encourage more birds into the garden, and I've been helping to plant wildflower seeds and mixed salad leaves with my family.
"I think the online videos are a great idea and they have given us lots of tips. I hope they keep going with them even after lockdown."
Support has also been in ready supply from community 'Friends' groups who are staying in touch via social media, group pages and messaging apps, many of which are reporting record increases in followers. Roy, a Volunteer Path Surveyor said: I have never seen so many people on the paths, often giving socially distant wave to each other. It may even mean that when this is done, there could continue to be increased demand for these local paths by wider sections of the community. Let's hope so."
And, for all of us, struggling still to adjust to a 'new normal', the team believes that the natural world can be the great leveller.
Concludes Chris: "Even if you're not out spotting nature, taking the time to slow down and enjoy your garden or local footpath can be a genuine stress buster. There's no need to put on a meditation podcast when you can listen to the relaxing sound of birdsong around you, or long for a return to the gym when there are brilliant opportunities to exercise right here in the great outdoors."
Watch Backyard Safari videos on Facebook, or get in touch with the countryside and greenspace team with feedback or ideas.