Big White Wall is here to support young adults
Published: Wednesday 13 May 2020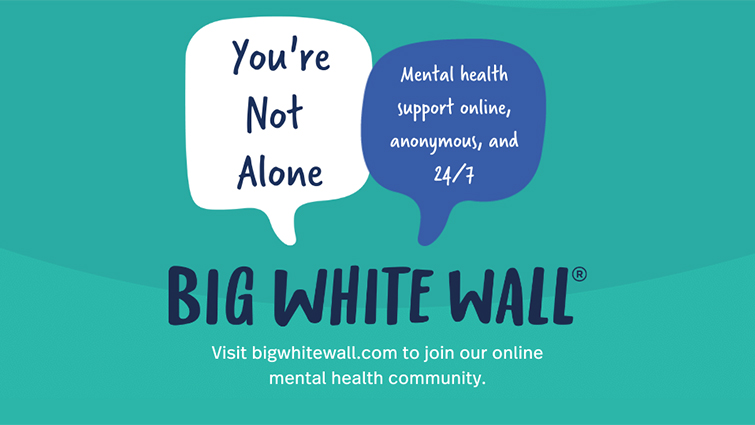 A mental health and wellbeing service for 16-19 year olds is now available round the clock.
The mental health and wellbeing resource offering online peer-to-peer and professional support for 16-19 year olds is now available in South Lanarkshire free to use 24/7.
The council has partnered with Big White Wall to set up the online service which offers anonymity and a safe space online to get things off your chest, explore your feelings, get creative and learn how to self-manage your mental health and wellbeing.
Whether struggling to sleep, feeling low, stressed or unable to cope, Big White Wall can help young people get support, take control and feel better.
Chair of the council's Education Resources Committee, Councillor Katy Loudon, said: "I am very pleased that we are now able to offer 16-19 year olds in South Lanarkshire round the clock access to this service and they can be confident that it is a reliable place to turn to when they need that extra support.
"Our Psychological Services team have worked with Big White Wall to develop this partnership and I would thank them for delivering a service which I am sure will be of great benefit to young adults in this age group now and in years to come."
Big White Wall provides a supportive, online community to give help when you're feeling down. Trained counsellors – known as wall guides - are available to offer informal support 24/7, and there is a choice of services, including access to resources and online self-help courses. This means anyone who may be struggling can get support at a time that suits them, from the comfort of their own home.
South Lanarkshire Education Resources Depute Principal Psychologist Dr Valerie Duchak said: "On Big White Wall you can anonymously explore aspects of mental health and wellbeing and receive support from a global on-line community.
"You will be asked to provide your postcode and date of birth when you register to ensure that the service we have developed with Big White Wall for 16-19 year olds in South Lanarkshire reaches those it is designed to support.
"When you self-register, we are not informed that you have gone onto Big White Wall or know of your activity on the service unless a wall guide becomes seriously concerned about your safety."
"It's estimated that 1 in 4 people will experience mental ill health. We also know that talking about it can be difficult. BWW does not replace existing services but it does offer a new route to help ensure young people don't have to struggle alone.
"Whether you're dealing with a mental health issue or just feel burdened by everyday worries or concerns, Big White Wall provides safe, anonymous online support 24/7."
70% of members report feeling better as a result of using Big White Wall and one in two shared something on Big White Wall for the first time.
Most members report feeling better and more able to cope with their workloads as a result of using the service and over 65% of members use Big White Wall outside of 9-5pm.
During the development of the South Lanarkshire BWW service for 16 to 19 year olds a focus group made up of senior pupils from St Andrews and St Brides High School in East Kilbride was set up see what local young people thought of BWW usefulness.
The feedback from the pupils was very positive, they felt the most useful aspects of BWW are the conversations that young people could have with others, that the wall guides are experienced counsellors, and that the BWW offers users the opportunity to take courses and work towards goals to help their wellbeing.
Big White Wall has already helped more than 180,000 people, including thousands from the UK Armed Forces community, which is supported by the Ministry of Defence, and Help for Heroes.
One Big White Wall member said: "I feel that the support given by BWW is fantastic. You are not judged, and you can be yourself. Most of us are very good at hiding our feelings. This is the only place I have felt comfortable in expressing myself."
Another member reported: "I started using it at a time of crisis. I was finding it difficult to manage my distress. Using the site has helped me reduce anxiety, stress and feelings of isolation, enabled me to feel connected to others who have emotional issues, and given me an opportunity to be part of a helping community."
For information on anonymity on Big White Wall see the privacy statement here to register visit the Big White Wall website.