Pupils help council to pick up eco award
Published: Thursday 5 March 2020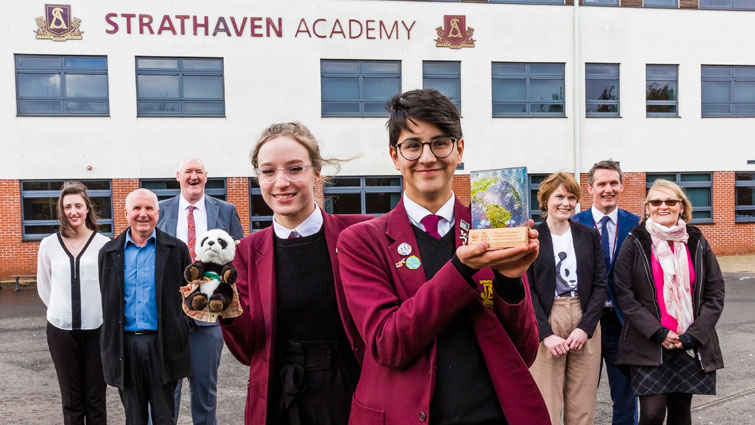 South Lanarkshire Council has been named 'Earth Hour Outreach Champion' by the World Wide Fund for nature (WWF).
The award marks the success of the authority's 2019 campaign which saw almost half of all local schools sign up online.
And with Earth Hour 2020 scheduled for later this month, the charity took the opportunity to visit one of the South Lanarkshire secondary schools which regularly participates in the global campaign which urges us to 'switch off' for one hour.
Strathaven Academy Pupils Honor Tompsett and Luca Assadi joined Community and Enterprise Resources Chair John Anderson to accept the award from WWF's Cara Wilson and Brita Ferguson, and took the chance to share the work being done both in the school and wider community.
Since 2001 it's estimated that the school, in partnership with the council and Strathaven Rotarians, have planted more than 4,000 trees to mark the event and improve their local natural environment.
Councillor Anderson was full of praise for the school and the wider campaign which led to the council picking up the award. He said: "South Lanarkshire Council has supported the campaign for several years and has again signed up for 2020. The 'Earth Hour Outreach Champion' award is testament largely to the success of last year's campaign with increased participation levels from our schools and nurseries, and more buy-in from community groups and local residents.
"Earth Hour has rapidly become one of the world's largest mass movements on climate change action, and given how important these issues are to the future of our planet, it's always reassuring to see our young people get involved.
"Here at Strathaven Academy, I can see the enthusiasm for these issues and have no doubt that the community here, along with those across South Lanarkshire, will ensure this Earth Hour is our most successful yet."
This year's switch off is on Saturday 28th March and people from all over the world are being asked to come together for one hour to show they care about the planet and to help put a spotlight on the issues facing it. 2020 is a year of climate action in the UK, with Glasgow set to host the UN's climate change conference.
WWF Scotland director Lang Banks said: "We're delighted to award South Lanarkshire Council the Outreach Champion award for WWF's Earth Hour.
"We were really impressed by their community outreach work, as well as the fact that nearly half of all their schools signed up to Earth Hour online. Earth Hour's a great way for people and organisations to show their support for nature and action on climate change. We look forward to seeing what the Council has in store this year."