New healthy choices at taste and try session
Published: Wednesday 4 December 2019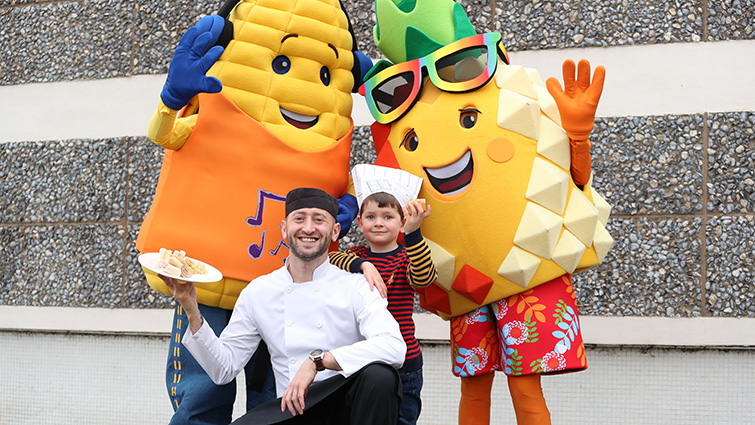 Children from nurseries across South Lanarkshire had the chance to try some tasty treats recently.
The taste and try event was attended by 10 nurseries and allowed the council's facilities team to get feedback on what the children enjoyed the most.
From 2020 children aged three and above (and eligible two-year-olds) will be entitled to 1140 hours of nursery teaching each year. This means an increase in the number of meals South Lanarkshire Council will need to provide for nursery-aged children.
All menus are nutritionally analysed to ensure a healthy and balanced diet.
The council's Head of Facilities, Waste and Grounds Services, Alistair McKinnon, said: "We really wanted to find out what the children thought about the food that we will be giving them each day in their nurseries.
"We tried to make the day as fun as possible for them, so some of them were lucky enough to get on the stage and help our chef prepare some of the food.
"The feedback we received will all go towards ensuring we prepare food that the children want to eat, as well of course making sure it fits in with their dietary needs."
The children used keypads to vote for their favourite items which included ham sandwiches, tuna pasta, cheese bagels, banana muffins and chicken wraps. These items are new additions to the brunch and afternoon snack choices – hot meals are available at lunchtime for nursery pupils.
Increasing the hours available in nurseries means parents will have three options open to them – a long morning from 8.30am until 12.30pm, a long afternoon from 1pm until 6pm and all day from 9am until 3pm.
The menus are an adaptation from the school menu with a two course choice of starter and main (either hot meal or cold choice) or a main/dessert option.
The nurseries involved on the day were Hollandbush, St Paul's, St Mary's (Lanark), Coalburn, Murray, St Patrick's, Newton Farm, Spittal, Westburn and St Cuthbert's.
More information on the early learning and childcare expansion is available from the Scottish Government website.