Seniors Together won't slip up this winter
Published: Monday 2 December 2019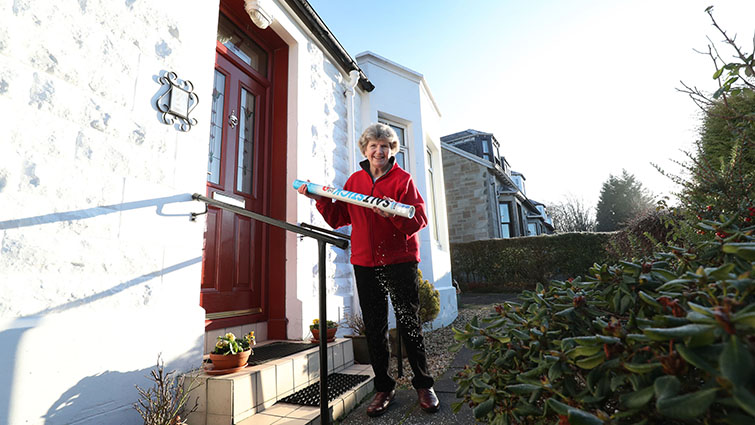 Seniors Together have joined forces with Safer South Lanarkshire (SSL) to highlight and prevent slips and trips this winter.
SSL's Unintentional Injuries Group – made up of a range of public and third sector and first responder organisations – has a specific remit of preventing injuries in older age.
And with winter having arrived, both groups want to encourage older people to take as many precautions as possible to help them stay safely on their feet.
With this in mind, grant funding has been sought to allow them to provide 'salt sticks' for use on steps, paths and gardens by the most vulnerable older people still living at home.
Said Helen Biggins, Chairperson of Seniors Together: "Older people have highlighted that they are most likely to experience a slip or trip on the way to their wheelie bin, or to the front gate. Even when the pavement outside has been gritted an injury can often happen inside the garden.
"So, on a recent visit to the council's Fleet Services team, we discovered the Winter Wizard salt sticks which we thought could provide a real solution to the problem, as refillable, recyclable and easy to store and use.
"While we are able to supply these to the householders already known to us as being vulnerable to falls, we would urge all older and retired people to think about how the can protect themselves against injury this winter.
"Perhaps groups and clubs could consider buying some salt sticks from club funds. They might even think about applying for funding with some advice from VASLAN.It may even be a good stocking filler for an older loved one or neighbour.
"The message is - think about being winter aware!"
Kenny Barbour, Group Commander, Head of Prevention & Protection, South Lanarkshire Scottish Fire and Rescue Service and Chairperson of the Unintentional Injuries Group said: "As Chair and on behalf of the South Lanarkshire Unintentional Injuries Group, a cross sector Partnership that aims to identify, help and support those at greatest risk of injury, we fully supports this fantastic 'salt stick' initiative by Seniors Together.
"Hopefully this will help in preventing unnecessary falls caused by the freezing temperatures we have come to expect in the west of Scotland."