A romance to match classics of the silver screen
Published: Friday 29 November 2019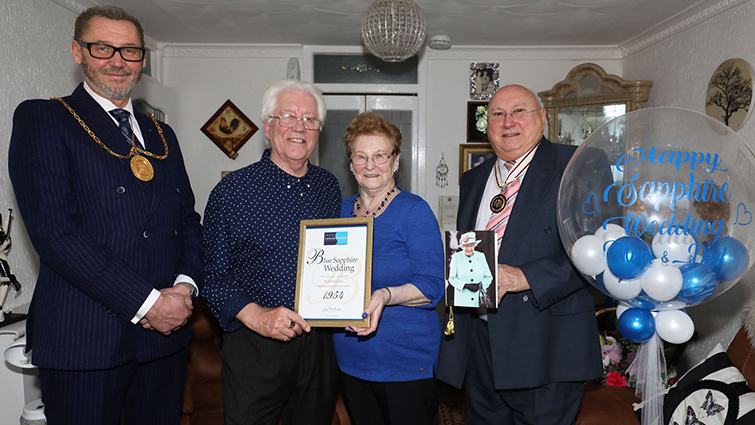 1954 was a great year for romance with two classic movie love stories dominating the Oscars.
it was also the year Jean and George Cooper from Larkhall married.
Now, 65 years on, the Larkhall couple have celebrated their Blue Sapphire Wedding Anniversary and a marriage that like the films 'From Here to Eternity' and 'Roman Holiday' has stood the test of time.
Jean and George first met at Larkhall Miners Welfare before George's work as a miner took them to Dalkeith where they married in the town's Registry Office on 27 November 1954.
The ceremony was held on a Saturday and it was back to work on the Monday with no honeymoon.
The couple returned to Larkhall where they had their first child, Margaret, on 2 June 1955, followed by two sons – William in 1957 and Robert in 1965.
For many years George worked with George Wilson, Building Contractor in Stonehouse.
Provost of South Lanarkshire Ian McAllan and Deputy Lieutenant John McKenzie visited Jean and George on their anniversary to congratulate them.
Provost McAllan said: "I was delighted to offer Jean and George my congratulations on their Blue Sapphire Anniversary and to present them with gifts and a commemorative scroll on behalf of the people of South Lanarkshire.
"They have worked hard at raising and supporting their family and clearly that bond that was sealed on their wedding day, 27th November 1954, is as strong as ever."
George and Jean have three children, nine grandchildren and 11 great grandchildren, with one on the way.
Both George and Jean worked until they were 71 years old and they still enjoy keeping active with walking and swimming among their favourite pastimes.
They holidayed abroad for many years but for the last two years they have gone for short breaks in the UK.
The couple say the secret to a long and happy life together has been give and take on both sides; working together to get through the ups and downs; and love, trust and a good sense of humour is essential!