Holy Cross High girls are sporting champions
Published: Monday 2 December 2019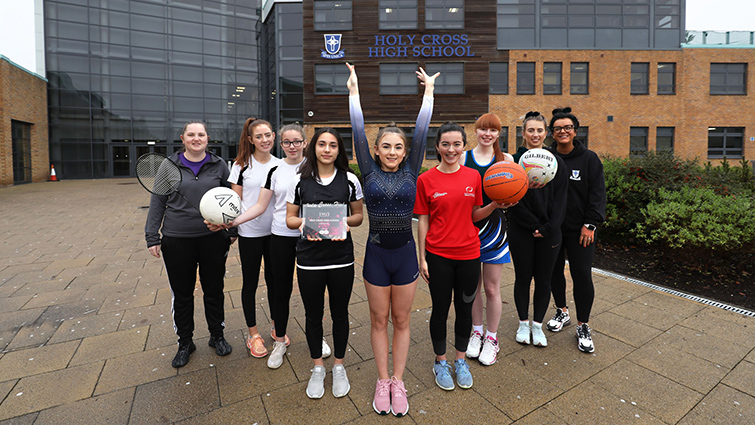 Holy Cross High School has won a prestigious Scottish Women in Sport Award.
The school was named Specsavers Champion School of the Year 2019 at the glittering Scottish Women in Sport (SWis) annual awards ceremony in Glasgow earlier this month.
As well as the accolade, the school also wins £500 towards boosting sport opportunities for girls across its curriculum.
The award is given to the school which SWiS judges agree has 'delivered a programme that understands female pupils and helps to encourage them to participate and enjoy physical activity and sport'.
Girls from S1-S6 have the chance to take part in a variety of sports from badminton to gymnastics and football to netball. Whether within school PE sessions, or on the wider stage in local and national teams, Holy Cross pupils have performed consistently well at the highest levels.
Carla Fagan, Deputy Head Teacher at the school, said: "This was a reward for our pupils' continuous hard work in PE & extra-curricular activities. Our team offer a variety of activities both in school time and in the local community and our young people embrace this.
"As well as being an honour for the school, the award has been great for the pupils' motivation spurring us on, we hope, to even higher goals. Well done girls keep it up!"
Holy Cross has long held a reputation for producing male and female sports stars who have gone on to national acclaim including footballers Phil O'Donnell and Stephen McManus, snooker's Alan McManus and world champion Latin dancer Donnie Burns. Team Scotland netball star Bethan Goodwin is also a recent former pupil.