Golf-loving Doreen tees up 100 years and counting
Published: Thursday 28 November 2019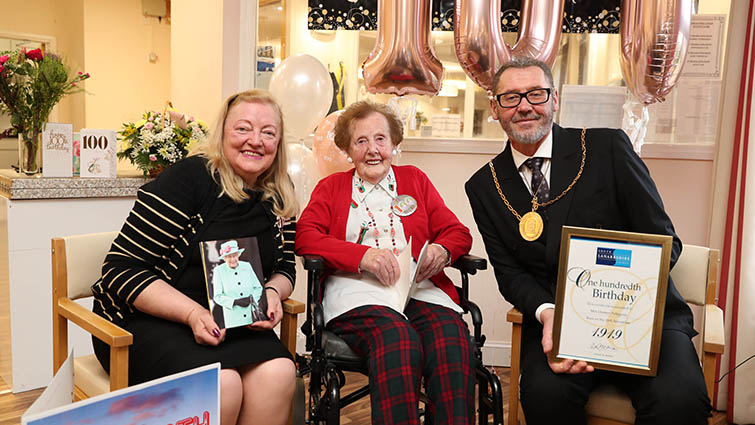 South Lanarkshire Provost Ian McAllan dropped in on a golf-loving East Kilbride Great-Gran this week to mark her 100th birthday.
Accompanied by Deputy Lord Lieutenant Margaret Morton, who handed over the Queen's birthday card, Provost McAllan visited Doreen Pettigrew and her family for the very special occasion in the town's Lindsayfield Lodge Care Home.
Presenting her with flowers and a certificate on behalf of the council, the Provost was also intrigued to hear the fascinating life story of one of South Lanarkshire's oldest residents.
Born on November 29, 1919, just after the end of WW1, Doreen (nee Anderson) grew up in Pollokshields on the south side of Glasgow with parents Robert and Joanna, and younger sister Muriel.
A pupil of Glasgow High School for Girls, Doreen picked up her love for golf in her formative years, during family holidays to Kingsbarn in Fife. A lifetime member of Haggs Castle golf club, Doreen only stopped playing regularly aged 90!
The other great love of her life was childhood sweetheart Alan Pettigrew, who was an Army Major at the time of the couple's marriage as WW2 ended in June 1945. Together they had two children – Fiona, born in 1947, and Gordon in April 1951 – who in turn gave them five grandchildren. Now a great-grandmother to Finlay, Arran, Isla and Skye, Doreen remains an active part of family life.
Always busy in her free time too, Doreen enjoyed both gardening and flower arranging and was a founder member of the Pollokshields Flower Club.
Provost McAllan said: "Doreen has lived a full and happy life, devoted to family, friends and her loves of golf and gardening. Fittingly for someone born within touching distance of the end of the Great War, and who married an army officer, charity work has also played an important role in her ten decades.
"As well as working as a volunteer she collected every year for Poppy Scotland, ensuring the legacy of those we lost in the world wars was kept alive. We owe her and the many like her, so much. What a joy it was to meet her."