Read ... and recycle this Hallowe'en
Published: Thursday 31 October 2019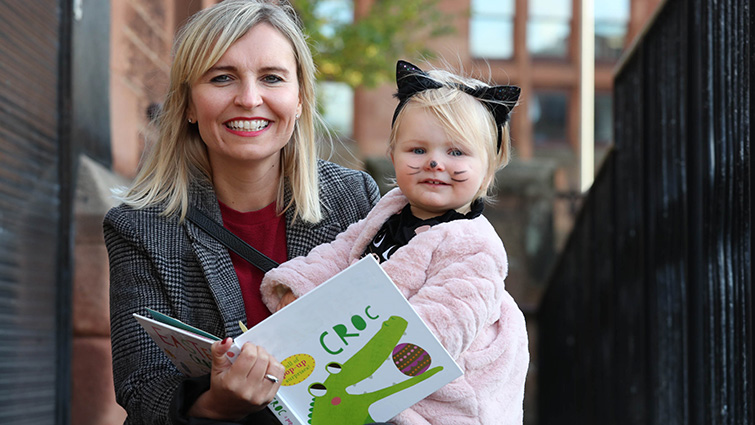 Happy Hallowe'en!
As the 'eve of all hallows' October 31, is a day that kids – big and small – enjoy some of life's more traditional pastimes with a spooky twist.
Nurseries and schools across South Lanarkshire are hosting pumpkin parades, bobbing for apples and dressing up to scare friends and family.
And even our very youngest residents are getting involved.
Fourteen-month-old Jess Halsey and mum Nikki from Hamilton, are regulars at their local 'bookbug' sessions where themed events are held throughout this week.
According to Nikki, the classes, aimed at encouraging early interest in books, are a great opportunity to learn and socialise, for both mum and baby.
She added: "We go twice a week and really look forward to it. I am excited about triggering Jess' interest in words and pictures, and love to give her the chance to make new friends in a safe and stimulating environment. As a first-time mum, bookbug also lets me meet other parents from my local area."
Bookbug is just one of so many Tiny Ace classes and activities open to South Lanarkshire's under-5s. Complementing the existing Ace programme for school age children, it is one of the most comprehensive in the country, bringing together access to Arts, Culture and Exercise in a monthly membership package.
Did you know that after the fun and games of Hallowe'en has passed, it's estimated that UK households dispose of as many as eight million pumpkins – enough to feed pumpkin pie to the entire nation.
A study commissioned by environmental charity Hubbub, and manufacturer Knorr, also found that more than 95% of pumpkins sold each year are bought at this time of year.
Nonetheless, it really is a complete food, that can either be eaten, recycled, or both. So, before you pulp all that pulp, why not consider whipping up a pie, a soup or some muffins, to name but a few. Or if you're stuck for inspiration we have a few recipes that could be worth a try.
Once there is no more use for pumpkin and contents, householders can dispose of their leftover pumpkin in the food waste bin, allowing it to be sent for compost rather than to landfill.
Anything that can't be eaten such as the hard skin and stem, can also be composted at home or placed in the burgundy wheeled bin for recycling.