Mall walkers invited for free health check
Published: Monday 4 November 2019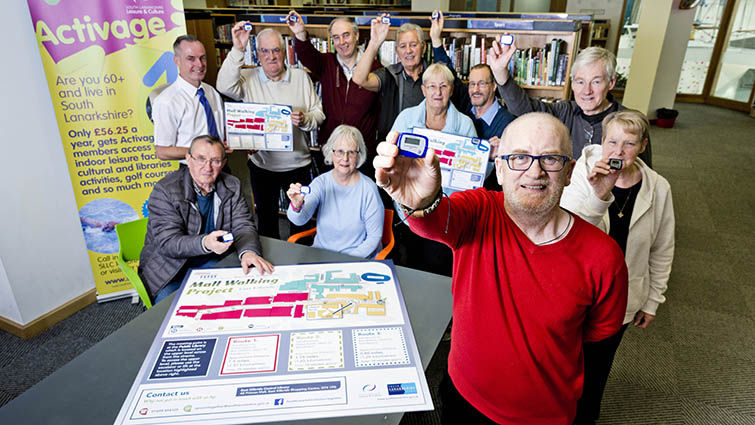 The council's Seniors Together team is offering monthly fitness checks to East Kilbride mall walkers in the run up to Christmas.
Following a successful 'coffee and cake' meet-up last week in the town's Central Library, the team was delighted to discover that so many locals have taken up the initiative since its launch a year ago.
Now, keen to build on the popularity and increase awareness, two sessions have been scheduled to offer free health checks by South Lanarkshire Leisure and Culture (SLLC) on Wednesday 6 November and Wednesday 4 December.
Anyone who comes along to the library on those mornings and identifies themselves to the team as a mall walker will qualify.
Launched in November last year, the mall walking initiative aims to make fitness more accessible and sociable for over 50s.
Originating in the USA, the project is being led locally Seniors Together, South Lanarkshire Leisure & Culture (SLLC) and EK , East Kilbride shopping and leisure centre.
Explained Chair of Seniors Together, Helen Biggins: "We were delighted to meet so many mall walkers at our recent coffee and cake day, and even happier to know that the project has struck a chord with our older population, who stop in, pick up their specially designed route maps and head off.
"Studies in North America have shown that shopping centres are the second most popular walking option for older people, providing an easy and safe way to incorporate fitness into lifestyles, often without even realising.
"Adding to this, the chance to gauge just how much good is being done, with a regular fitness check, and we hope that many more will be keen to join us in this novel way of staying fit over 50."