Tenants can have their say on council house rents
Published: Friday 18 October 2019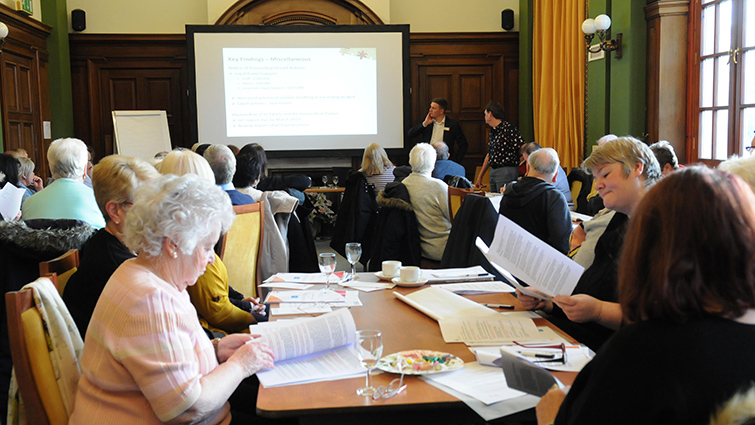 South Lanarkshire Council tenants will soon be able to give their views on the level of rent proposed for 2020-21.
A series of local meetings are scheduled to take place during November. The focus of the meetings will be to consider the proposed rent increase for 2020-21 as well as the proposed spending and investment priorities for the year ahead.
Two years ago tenants told the council that they would like to agree rent levels over a longer period. It was therefore agreed that a three year rent strategy, with a commitment to review this annually, would be put in place. The proposal is to keep to the current three year agreement meaning that the rent level for 2020-21 would increase by 3.95%.
Annette Finnan, Head of Housing Services, said "It is hugely important that decisions on the level of rent are made in consultation with our tenants.
"This year provides an excellent opportunity to discuss the key influences and the future investment priorities which impact on the level of rent income required.
"It is vital that tenants get involved and take the opportunity to come along to the events to give their views."

To ensure as many tenants as possible have the chance to take part, the meetings will be held at various locations on the following dates:
• Town Hall, Rutherglen at 2pm on 5 November
• Cadoc Suite, Cambuslang Gate, at 2pm on 6 November
• Brandon Business Centre, 23 Brandon Street, Hamilton at 1pm on 12 November
• Memorial Hall, 13 St Leonard St, Lanark at 2pm on 19 November
• Community Centre, Montgomery Street, Larkhall at 4pm on 26 November
• 1A Clydeview Shopping Centre, Blantyre at 2pm on 27 November
• Council Chambers, Civic Centre, Andrew Street, East Kilbride at 3pm on 27 November
South Lanarkshire Council tenants who would like to find out about the council's housing budget and give their views on the rent level and spending and investment priorities will be welcome at any of the events.
Tenants can also give their views through an online survey.
To conclude the consultation there will be a special event in the Town House, Cadzow Street, Hamilton ML3 6HH on Tuesday, 10 December, 2019. All tenants are welcome to attend this event.
If you would like to attend the closing event or would like further information on the proposed rent level and priorities please contact Aileen Muir on 01698 454121 or email aileen.muir@southlanarkshire.gov.uk