Straight As for Edward following tumour battle
Published: Thursday 8 August 2019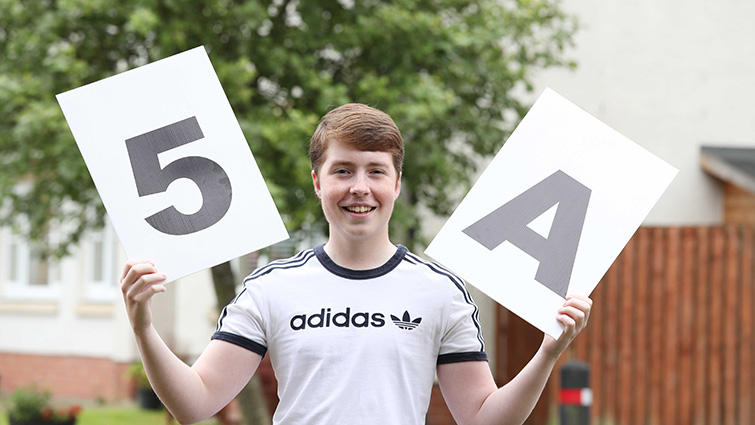 As his exam results dropped through the letterbox this week, Edward Asken opened them nervously like thousands of other pupils.
The Holy Cross High School pupil's delight at achieving five As at Higher level was shared with his family and meant he would be able to follow his dream and study pharmacy at Strathclyde University. Similar to so many others, his hard work and dedication had paid off.
But what makes Edward's story so remarkable is that just two years previously he was fighting for his life after suffering a devastating brain tumour.
During the summer of 2017 a family holiday in Northumberland had to be cut short when he was rushed to the Royal Victoria Hospital in Newcastle and doctors delivered the terrible news.
Edward said: "I was initially in the hospital for two weeks and underwent an operation which basically saved my life.
"At the time I was aware of brain tumours and how serious they could be, but I never thought it was something that would happen to me – especially not at 16 years of age."
Following that initial stay at hospital in Newcastle, Edward faced months of gruelling chemotherapy and radiotherapy at the Royal Hospital for Sick Children in Glasgow. Another couple of setbacks meant further operations, at the Queen Elizabeth University Hospital in Glasgow.
Edward, from Uddingston, said: "It meant that I missed basically the whole of fifth year and didn't get the opportunity to sit my Highers that year.
"I had no idea the life-changing effect the tumour would have on me."
Mum Madeleine said: "The most important thing for us was of course to ensure that Edward got back to full health – we had to concentrate on that."
Edward started sixth year in August 2018, and praised his fellow pupils and teachers for the support he received.
He said: "At first it was difficult as I was still nowhere near back to full health, but everyone at the school helped me and were there for me every step of the way."
Dad Eddie said: "Edward enjoys playing golf, and playing even when he was still ill really helped him, both physically but more important mentally – it showed him he could still get out there and do things."
Thanks to his own hard work and support from the teachers at Holy Cross, Edward was soon showing signs that he would do well in his five Highers – English, Maths, Biology, Chemistry and History. Everything came to fruition when he learned of his results this week.
Madeleine said: "What happened was obviously a horrific time for us – exam results day was a day we thought we would never see at one point. It makes Edward's success all the sweeter."
Head teacher of Holy Cross High School, John Riley, said: "Edward's story is genuinely inspirational and all members of the Holy Cross High School Community are absolutely delighted for him and his family.
"To say he has shown courage and determination would be an understatement.
"Indeed, we thought his returning to school was a massive achievement in itself and tried to support Edward to ease his way back into school life as gently as possible.
"To go on and achieve – not only five Highers – but five A passes, is a phenomenal achievement and highlights Edward's determination to succeed and to overcome this major setback in his young life.
"Two years ago when the news of Edward's condition reached us, we were all devastated for him and his family.
"Today we are overjoyed for this young man who has quietly – and with dignity – inspired us all."