Top primary school athletes compete championship finals
Published: Thursday 11 July 2019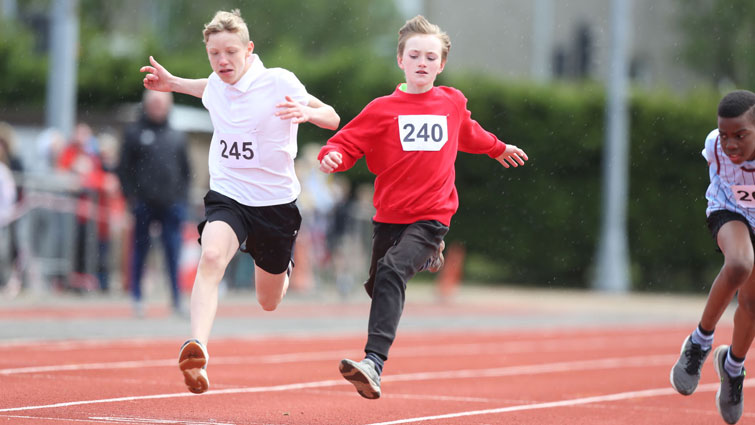 Top primary school athletes from across South Lanarkshire met in East Kilbride for the 2019 Track and Field Championship Finals.
The finalists, from a total of 48 Primary schools, gathered on Thursday 20 June after winning through to the finals in their local area championships.
The competition at East Kilbride's John Wright Sports Centre saw just over 300, P6 and P7 boys and girls taking part in 600m, 100m, long jump, javelin and the 4 x 100m relays.
The top 10 athletes in each discipline at the area championships represented both their own school and their area in the finals.
The final results on the day were as follows:
600m
P6 Boys – 1st Peter McGuigan, Wester Overton, 2nd Gerard Black, St Kenneth's, 3rd Kyle Murray, Bothwell
P6 Girls - 1st Joselyn Kennedy, Blackwood, 2nd Erin McAuley, Wester Overton, 3rd Brogan Campbell, Underbank
P7 Boys – Conor Campbell, Crawford, 2nd Ryan McNamara, St Kenneths, 3rd Jonathon Hunter, Mossneuk
P7 Girls – 1st Aimee Anderson, Mossneuk, 2nd Tyler Kelly, St Kenneth's, 3rd Jessica Ingles, Underbank
100m
P6 Boys – 1st Blair Barrowman, Crawforddyke, 2nd Aiden McDonald, Bankhead, 3rd Rhys Mackie, St Marys
P6 Girls – 1st Emma Douglas, 2nd Katie Towers, Lanark, 3rd Olivia McStay, St Marys
P7 Boys – 1st Nathan Lawson, Mossneuk, 2nd Kyle Weir, Machanhill, 3rd Dominic Inyang, St Vincent
P7 Girls – 1st Ruth Hynd, Milton, 2nd Kirsten Shanks, St Marys, 3rd Rachel Griffiths, Kirktonholme
Javelin
P6 Boys – 1st Lewis Richardson, Bankhead, 2nd Declan McCluskey, Blacklaw, 3rd Callum Currie, Crosshouse
P6 Girls – 1st Erin Woods, St Kenneth's, Johann Gillon, St Athanasius, 3rd Kassidy Murdoch, Stonehouse
P7 Boys – 1st Ciaran Swan, Stonehouse, 2nd Kai Thomson, Crawforddyke, 3rd Thomas Trainor, St Kenneth's
P7 Girls – 1st Leona Hamilton, Netherburn, 2nd Eva Galloway, Bothwell, 3rd Amy Coyle, Bankhead
Long Jump
P6 Boys – 1st Peter McGuigan, Wester Overton, 2nd Ethan Selfridge, Kirktonholme, 3rd Johnny Markvar, Glengowan
P6 Girls – 1st Erin McAuley, Wester Overton, Tallulah Frew, Hunter, 3rd Ava Cochran, Glengowan
P7 Boys – 1st Kyle Edgar, Mossneuk, 2nd Zak Lindsay, Crosshouse, 3rd Aaron Moonie, Netherburn
P7 Girls – 1st Ruth Hynd, Milton, 2nd Tyler Kelly, St Kenneth's, 3rd Rachel Griffiths, Kirktonholme
4x100m Relay
P6 Boys – 1st St Kenneth's, 2nd Crawforddyke, 3rd Kirktonholme
P6 Girls – 1st Lanark, 2nd Burnside, 3rd East Milton
P7 Boys – 1st Mossneuk, 2nd Machanhill, 3rd Kirktonholme
P7 Girls – 1st Mossneuk, 2nd Kirktonholme, 3rd St Kenneth's
ENDS