Find out about plans for multi-million pound Blantyre care hub
Published: Thursday 11 July 2019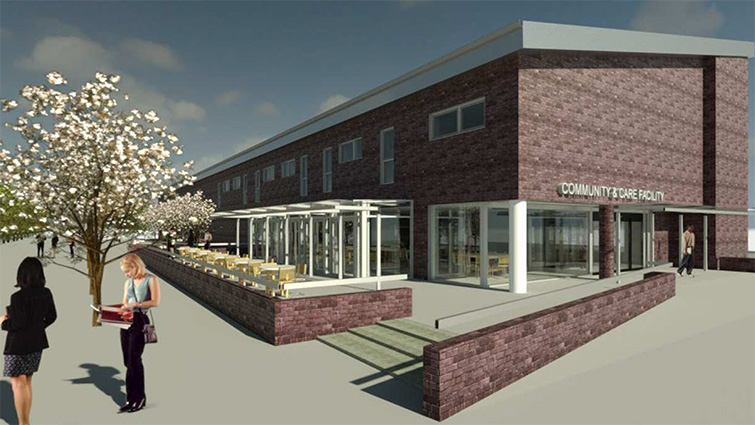 A public information day is being held to tell local people more about plans for a multi-million pound investment in Blantyre.
South Lanarkshire Council announced a year ago that major plans to modernise care for adults and older people across South Lanarkshire are being brought forward.
Plans to develop a care hub in Blantyre mark out the first phase of that modernisation programme.
Proposals submitted to South Lanarkshire Council's planning department in June show four distinct elements to the plans for the former St Joseph's Primary School site:
20 transitional care apartments for adults and older people (transitional care offers short term support with the objective of allowing people to return home following a period of ill health or crisis. Transitional care can also be preventative, preventing hospital admission)
a centre of excellence – specialising in training and development of health and social care staff. Although unique to the proposed Hamilton/Blantyre facility, this will support all localities
a community-facing hub featuring: A café; Demonstration site (showcasing our Telehealth technology and how that can improve lives); Guidance and support for unpaid carers; Linkage and signposting into a raft of community-based voluntary and third sector support
20 technology enabled homes for adults and older people designed and equipped with technology to support older people requiring a higher level of support and those with complex disabilities to live independently in a family home rather than moving to residential care
In addition it is proposed that a further 25 new council homes would be built on the site.
South Lanarkshire Council Director of Health and Social Care Val de Souza said: "We are holding a drop-in information day at Blantyre Miners Welfare on Wednesday 31 July 2019 between 2 and 7 pm to give people the chance to come along and find out about the plans, as well as keeping the community fully updated about what we're doing and how we're doing it and the reasons why.
"In effect, we are developing a model of care that will enhance our ability to meet changing care needs, particularly in light of significant population change over the last 20 years and responding to what people have told us. This is about improving people's lives - and offering real choice.
"This approach to care offers the people of South Lanarkshire more choices and options to be maintained at home and in the community".
Transitional care has been shown to be effective in supporting older people to live happier and healthier lives in their own communities rather than moving to long term residential care, a year long pilot in South Lanarkshire saw more than half of those receiving transitional care were able to return to their own home.