An e-bike gives a boost to mind, body and the world around us!
Published: Friday 5 July 2019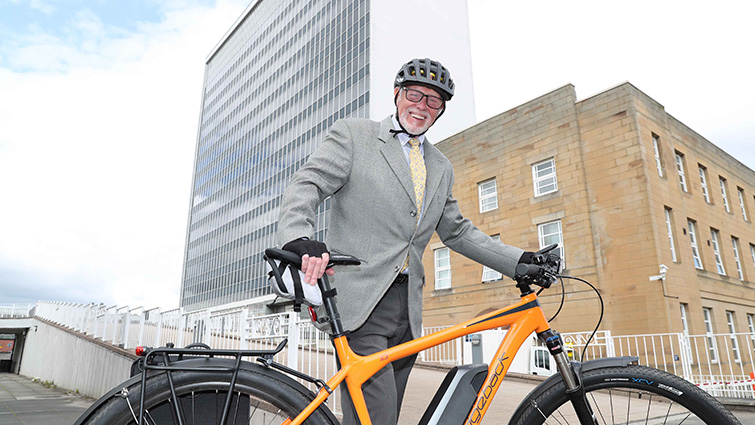 Helping the environment has seen the Council Leader rediscover an old love and he is urging everyone to follow suit – literally!
Councillor John Ross started using an e-bike to travel to and from work and has found that, with the electric motor helping him when needed, he can arrive at work without troubling his suit or his colleagues with the effects of perspiration.
The e-bike is programmable to offer different levels of assistance to the rider, which Councillor Ross has found to be perfect for his uses.
The Council Leader said: "I used to cycle a lot but, in 2014, I had a crash and broke an arm and a leg, and I hadn't been on a bike since. However, we have a three-year-old grandson and my wife suggested getting a second car to help with seeing him, but I was thinking about the fact that we are trying to cut down on emissions, so my mind turned back to cycling.
"Then I found out about e-bikes, and it all seemed ideal – the best of both worlds. I could get back out cycling with the ability to control the amount the bike helped me, and once I got back on a bike I rediscovered how much I love it!
"So I guess you could say that my grandson inspired me to get cycling again, benefit the environment and help my health!"
An e-bike has a small electric motor built into it that can be set to offer different levels of assistance to the rider, from being turned off though stages where it will cut out or kick in at certain speeds.
Councillor Ross explained: "For coming into work I can set it to a level of help that means I'm not coming in sweaty, and can step off it at the council building wearing my suit and ready for business.
"I don't take any longer than doing the same journey in a car and the mental benefits are just as good as the physical ones.
"However, I also use the bike at weekends for leisure – my son cycles as well and I often phone him to ask if he's coming out to play – and in those circumstances I have it set to the lowest setting without being completely switched off because I can afford to enjoy myself working a bit harder.
"When you consider that it is also good for air quality and sustainability, there really isn't a downside, and with e-bikes there is an opportunity for many people who might not have thought that cycling was for them so I wouldn't hesitate to urge people to give it a try."