Partnership project centred on human dignity in spotlight
Published: Friday 5 July 2019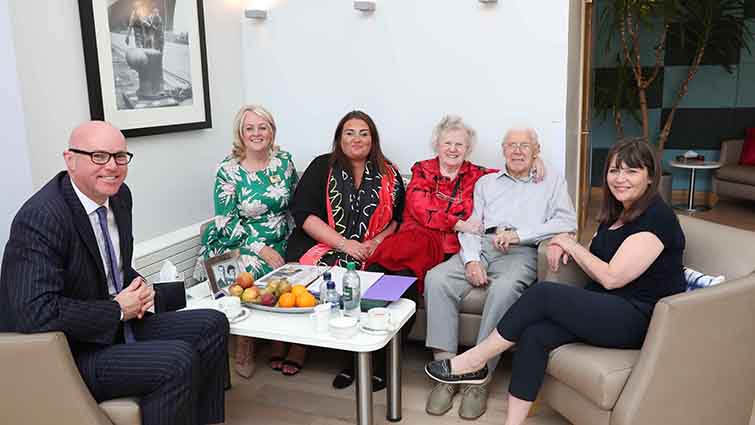 An initiative that has improved the lives of people in some Lanarkshire care homes is in the national spotlight once again.
The Care Home Continence Improvement project set out to improve approaches to continence care and recently won the making research and evidence real category at the recent prestigious Scottish Social Services Awards.
And the exemplary work was the focal point of a recent visit by Mental Health Minister Clare Haughey MSP to mark national Care Home Day, an event that helps to showcase what goes on in the UK's many care homes.
Another focus of the visit was CAPA (Care about Physical Activity, which is about taking part in everyday living skills and making every movement count.
Ms Haughey recently met core members of the team during a visit to South Lanarkshire Council's David Walker Gardens in Rutherglen, one of the care homes where the initiative had been tested.
Ms Haughey said: "I was delighted to meet staff and speak with residents who are benefitting from these initiatives. It is clear that people can experience better health and wellbeing through well designed improvements to care.
"I encourage care providers across Scotland to consider initiatives like these to ensure our Health and Social Care Standards are met."
Research has identified incontinence as a risk factor that increases skin damage, infection and falls in older people.
During the visit, Ms Haughey learned how the initiative allowed care home staff to improve the quality of care through better recording of processes and introducing small changes including medication reviews and reducing caffeine intake.
The outcomes of the project – also piloted at Summerlee House in Coatbridge – led to improvements including a reduction in falls by 65%, urinary infections being halved and skin damage reduced by one third. The project has also significantly reduced the amount of continence pads used at the homes.
The pilot was developed by teams in and North and South Lanarkshire's Health and Social Care Partnerships, NHS Lanarkshire and NHS National Services Scotland and has since been rolled out to 12 homes across South Lanarkshire.
Jean Donaldson, Associate Director of Nursing, South Lanarkshire Health and Social Care Partnership, explained: "This project was about small changes making a big difference. As we implement this approach in Lanarkshire, we were delighted to share the details of the approach and the recent award has been the icing on the cake."
Alice Macleod, Nurse Advisor with NHS National Services Scotland, added: "The expertise among all involved in this project has supported care home staff to implement this innovative, quality improvement initiative. We are committed to building on this work and sharing our experience, with the goal of supporting others to make positive changes."
Mary Tedford, Community Living Manager, Older Adult Residential and Care and Support, South Lanarkshire Health and Social Care Partnership, who organised the visit, said: "The project that was piloted here at David Walker Gardens has directly tackled an issue that can be often seen as a taboo. The improvement changes have markedly reduced the impact of incontinence, including reducing infections and falls, as well as saving money. Crucially this has also improved people's lives and we're very proud to have played a part."