New machine will revolutionise school cleaning
Published: Tuesday 2 July 2019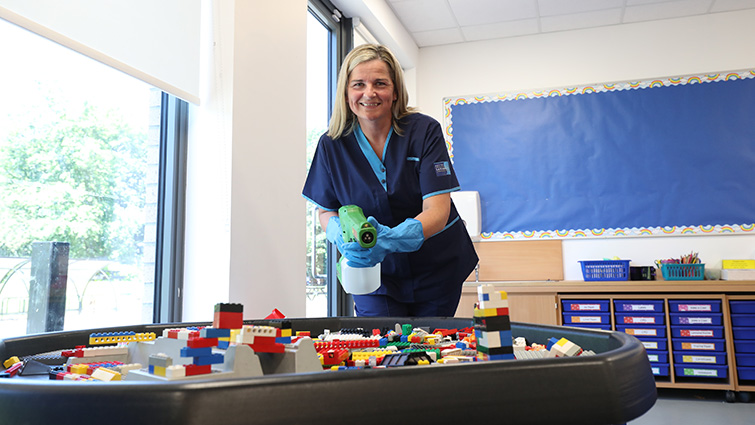 A new method of cleaning is being introduced to help stop the spread of bugs and bacteria in South Lanarkshire primary schools.
From August this year, after normal cleaning duties have been carried out, a spray of electrically charged water-based non-chemical solution will be directed onto surfaces to break the 'chain of survival' of bacteria.
The solution wraps itself around the surface like a magnet, giving superior coverage of objects and surfaces, particularly hard to reach places that are missed using a normal trigger spray and cloths.
It also works four times faster than a conventional spray as the fine droplets of liquid evaporate leaving a dry, clean and more importantly, safe surface.
The electrostatic method of cleaning can also decontaminate viruses from schools, care homes, offices and sports centres in minutes using a specialised water based solution.
Chair of the council's Community and Enterprise Resources Committee, Councillor John Anderson, said: "This additional method to our cleaning schedule will hopefully help stop the spread of bugs in our schools.
"Most importantly, this is a chemical-free solution and protects the surfaces from bacteria for a longer period of time than conventional cleaning methods.
"The sprayers are really portable as they are lightweight and cordless. They are also easy to operate as there is one switch then pull the trigger. The cleaners who are using them have said how much easier they are to use and we are already seeing very positive results."
During the past year the council has been trialing the effectiveness of electrostatic technology for use in schools.
The focus has been on primary schools as that's where the most reported cases of virus outbreaks occur.
Early indications are that the trial has been successful and the new method will begin in most primary schools when they return from the summer break in August. Other buildings across the council are also likely to be cleaned in this way in the future.
South Lanarkshire Council's cleaning team are recognised as leaders in the field of cleaning with the service currently holding the prestigious APSE best performer in the UK award.