Duke of Rothesay visits Castlebank Park
Published: Monday 1 July 2019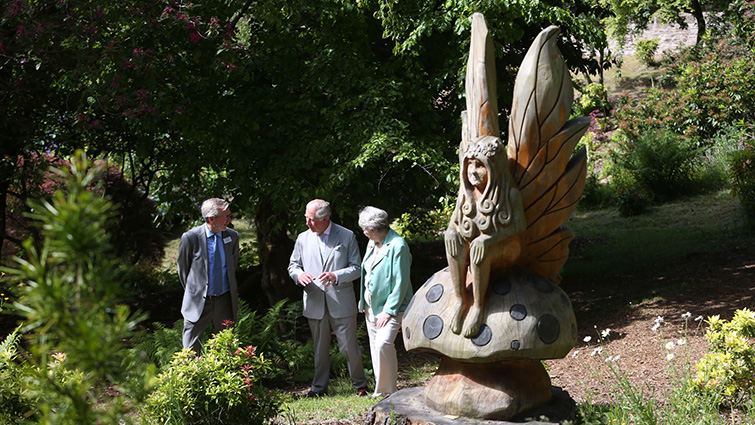 The Duke of Rothesay visited Castlebank Park and Horticultural Centre in Lanark in the sunshine of Friday afternoon.
During the visit, His Royal Highness undertook a walking tour of Castlebank Park, taking in the renovated terraced William Wallace Memorial Rose Garden and Long Border, chatting to volunteers, including a young person from The Princes Trust who had been involved in the garden renovations.
Among the party escorting HRH was council Chief Executive Lindsay Freeland. Provost, Cllr Ian McAllan along with fellow councillors was also introduced to the Duke. At the Bog Garden and Fairy Dell, His Royal Highness met young people from local Scouts and Beavers groups who regularly visit the park to enjoy outdoor activities.
His Royal Highness then visited Castlebank Horticultural Centre's Growing Compound, meeting Lanark in Bloom and more community gardening volunteers including members of the centre's dementia friendly gardening group.
The raised beds in the compound are currently full to the brim growing produce, much of which will be donated to the Clydesdale Food Bank through the Clydesdale Food Network, coordinated by Clydesdale Community Initiatives.
Castlebank's Educational Gardener was also introduced to the Duke along with representatives from South Lanarkshire Council's Community Payback Team, who have contributed greatly to the renovation of the park.Most recently, the Community Payback Team helped in the creation of the new 'Community Apiary' site beside the Horticultural Centre.
The recently instated beehives were opened by His Royal Highness, cutting a bright yellow ribbon. The Community Apiary project was funded through The National Lottery Community Fund.
Finally, His Royal Highness planted a locally grown Scots Pine tree to commemorate the visit.
Castlebank Horticultural Centre is managed and operated by Lanark Community Development Trust. The development of the centre has been funded by LEADER, the Renewable Energy Fund and the Climate Challenge Fund.
Proceeds from the hire of the centre, events, workshops and activities are returned to the Development Trust to continue the project of rejuvenating and maintaining the gardens of Castlebank Park for the local community to enjoy, with the help of a team of dedicated volunteers. Further information is available at Lanark Trust.