Award winning author hosts sold out library visit
Published: Tuesday 2 July 2019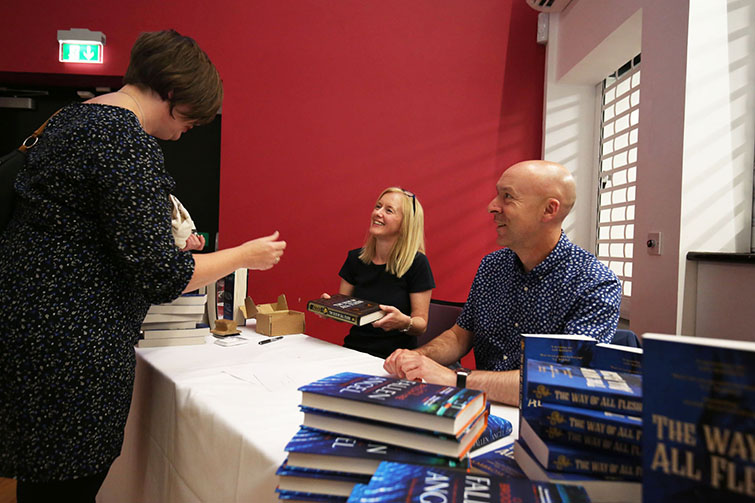 Author Christopher Brookmyre staged a sold out 'an evening with...' event in Strathaven last week.
The award-winning novelist was there to mark the first anniversary of the opening of the Avondale Community Wing which also houses Strathaven Library, and hosted the event with his wife, Dr Marisa Haetzman.
The couple recently penned their first novel together 'The Way of all Flesh' under the pseudonym Ambrose Parry.
They talked about the collaboration to an enthralled audience at the event last week where guests were also able to pick up signed copies of the novel, which is set in Victorian Edinburgh and described as a tale of 'medicine, money and murder'.
Community Librarian, Liz Rodger, said: "Chris and Marisa gave an engaging account of how they had worked together to write the book. They were humorous and friendly and I think the audience found the subject, and many of Marisa's real life insights, fascinating.
"A good Q&A followed on both the book, and their experience of working together on this project. Chris even surprised us with news that he was playing at Glastonbury as part of the group the 'Fun Lovin' Crime Writers'! We certainly hope this is the first of many such successful events at Avondale Community Wing."
Christopher Brookmyre has penned more than 20 books, including 'Black Widow', and is winner of both the Theakston Old Peculiar Crime Novel of the Year and the McIlvanney Prize for Scottish Crime Novel of the Year.
Marisa Haetzman, meanwhile, is a consultant anaesthetist of 20 years' experience, whose research for her Master's degree in the History of Medicine uncovered the material upon which 'The Way of all Flesh' was based.