Healthy response to primary school visits
Published: Monday 17 June 2019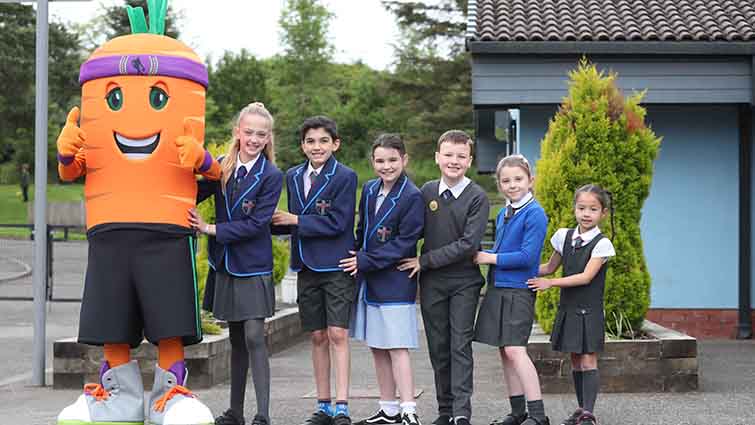 Popular food characters have been reminding primary pupils of the importance of healthy eating.
As part of the British Nutrition Foundation's Healthy Eating Week, South Lanarkshire Council's Go Fresh Club characters have visited nursery and primary schools right across South Lanarkshire.
The six characters – Sally Strawberry, Chris Corn, Becky Broccoli, Alan Apple, Paula Pineapple and Colin Carrot – were brought to life by pupils from Uddingston Grammar, Calderglen High and Strathaven Academy, who wore the costumes for the visits.
Promoting the ethos of Healthy Eating and Health and Wellbeing to the pupils through the week's themes of Have Breakfast; Have five a day; Drink plenty; Get active; and Sleep well, the characters visited the schools for breakfast clubs and lunch service.
Gerry Donachie, Facility Services Manager at South Lanarkshire Council, said: "These visits of the Go Fresh characters have been a huge success and the children have really enjoyed them - as have the high school pupils who played their parts so well and in such good spirits.
"The schools visited have received posters of the five different themes and a certificate of participation and we hope that the memories of meeting the characters will spur the children on to continue to make healthy choices with their food and drink."