Act fast to follow Carluke company's award success
Published: Monday 24 April 2023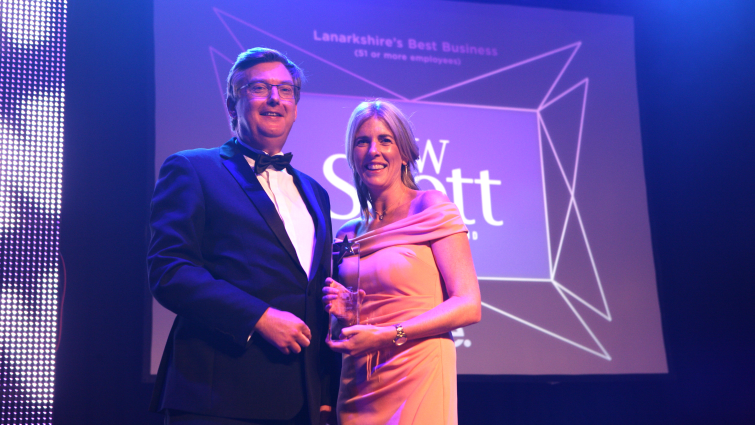 If you have a sweet tooth, there's a very good chance you'll have enjoyed the taste of Carluke firm R&W Scott's products.
But it is the sweet smell of success that is also currently delighting the manufacturer of baking and confectionery ingredients.
Not only have their sales been rising significantly in the few years since they underwent a management buy-out, but they are also the current, proud holders of a Lanarkshire Business Excellence Award.
Hosted jointly by South and North and Lanarkshire Councils, these awards are one of the longest established business awards in Scotland, promoting and celebrating the success and diversity of the Lanarkshire business community.
R&W Scott won the award for Lanarkshire's Best Business (51+ employees) at last year's ceremony… but any companies looking to follow in their footsteps will need to move fast, with the closing date for entries being on Wednesday, 26 April.
R&W Scott began 150 years ago, as a jam and fruit-growing business and a pioneering spirit and innovative approach have seen it develop into a multi-million-pound enterprise that numbers blue-chip companies and major supermarkets amongst its customers.
Bespoke confectionery fillings, speciality soft icings and ingredients that are supplied to household names, including Mars, Nestlé, Mr Kipling and Asda, mean that the company's products are a part of such familiar treats as Maltesers, Galaxy Truffles, Terry's Chocolate Orange and My Protein bars, as well as a host of others.
The company was revitalised further by a management buy-out around five years ago and within a couple of years faced the challenge of Covid-19. However, they weathered the pandemic storm through innovative thinking, protecting both employees and orders and through hard work, staff commitment and tenacity.
The result was that the business not only emerged intact from the pandemic challenges, but actually recorded, in the first year afterwards, an 11% rise in sales compared with the most recent pre-Covid figures.
Managing director Stephen Currie said: "Our focus on our people, our products and our community have meant that we can very rapidly give our customers exactly what they need, and to the standard they recognise.
"We are incredibly appreciative of our workforce, which we have grown to 97 committed individuals, some of whom have been with us for more than 40 years, and we all work together to the common cause of providing the best service we possibly can. This is all built on strong relationships with our key suppliers and, for professional services, we have committed to using local accountants, lawyers and IT suppliers who we know understand and share our values.
"We were naturally delighted with the rise in sales after the pandemic, but a combination of new customers and product development will see revenue grow from £14.5million in 2022 to more than £20m by 2024 – an increase of almost 38% – and this is something that is down to every single person at the company."
Councillor Robert Brown, Chair of Community and Enterprise Resources at South Lanarkshire Council, said: "R&W Scott is a perfect example of a local business that can compete on a global level. They are large enough – with sufficient skills, expertise and equipment – to be able to meet the very high standards their customers expect, but at the same time are small enough to act entrepreneurially, turning new ideas into finished products without the bureaucracy and slow project timelines often seen at larger competitors.
"However, it is also due to their ethos. They are massively invested in their workforce, through Living Wage accreditation, employee shareholdings and cost-of-living support, for example, and in their local community through support for the local foodbank, sponsorship of local sports clubs, and a large involvement in local schools and community groups.
"Their success, built on local values, is inspirational, and they will be a hard act to beat at this year's Lanarkshire Business Excellence Awards. There are lots of things for other companies to follow up on."
The awards dinner for 2023 will be held on 1 September, with entries for all categories being accepted until 5pm on Wednesday, 26 April. Further information on the awards, and on how to apply, can be found on their dedicated website.