State-of-the-art care facility welcomes first service users
Published: Friday 14 April 2023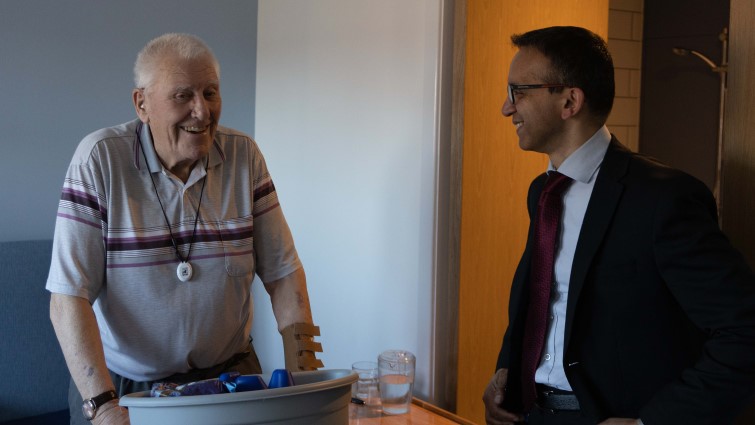 One of the first service users at South Lanarkshire's new care facility has told of his delight with the support he is receiving
The intermediate care unit in Blantyre is part of South Lanarkshire Council's and South Lanarkshire Health and Social Care Partnership's long-standing commitment to the 'home for life' principle, seeking to reduce reliance on long-stay nursing and residential care.
The facility, which has been named Blantyre Life, has been developed to support people over 50 years of age who need a relatively short period of rehabilitation during a time of transition, ill health or crisis, but do not need or no longer require hospital care.
Robert Johnstone is among the first service users to receive care and rehabilitation at the new facility.
Robert, who is being supported by staff in his recovery so that he can return home, said: "It's a very nice place, and I'm really happy with how it is here.
"The staff are absolutely fantastic and deserve a huge amount of praise for how helpful they are. I can't thank them enough.
"My two daughters come and see me here when it suits them, and they have also been very impressed with the facility."
Chair of the council's Social Work Resources Committee, Councillor Margaret Walker, said: "It's great news that our first service users are receiving rehabilitation at our new Blantyre Life facility to enable them to return to living within their own homes.
"I would like to thank all of our staff and partners for their exceptional work in delivering this development, and to the local groups who engaged so enthusiastically in selecting its name."
Director of Health and Social Care for South Lanarkshire, Soumen Sengupta, said: "It was great to meet Robert and hear about his enthusiasm for Blantyre Life.
"Our new facility benefits from dedicated staff from a range of professional disciplines who together are committed to promoting the independence of service users so that we can return them to their own homes as safely, as confidently and as quickly as possible.
"My thanks to all those colleagues who have worked tirelessly to bring what is an exceptional facility to life for the benefit of the whole of South Lanarkshire."