Help tackle fly tipping in your communities
Published: Friday 17 March 2023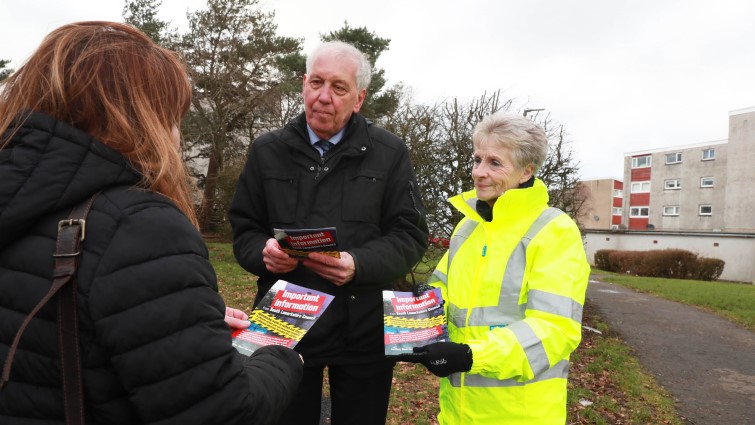 The council always targets the worst fly tipping areas but needs your help to reduce these acts of illegal, selfish behaviour.
Our waste education and environmental services teams are out and about in these areas putting advice leaflets through letter boxes and also visiting residents at home to offer advice about how they can dispose of waste legally and responsibly.
It was highlighted to residents that fly tipping is not just illegal and selfish but is an eyesore, attracts vermin and encourages anti-social behaviour in their neighbourhoods.
Other advice discussed included all the facilities available to dispose of additional material that cannot fit in their wheelie bins, including what items can be taken to any of the household waste and recycling centres or taken away by requesting a bulk uplift.
Councillor Robert Brown, the chair of the council's Community and Enterprise Resources Committee said: "Our teams work hard to keep our communities clear of dumped litter and rubbish. But the reality is that we need everyone in our communities to help by not throwing away rubbish that should be put in road-side bins, household bins or collected and taken to any of our recycling centres.
"A minority of people seem to think the rules don't apply to them and that they can dump litter and rubbish wherever they like. This costs the public services time and money that could be better spent on other things. Neither the council nor local communities are prepared to tolerate this, and we aim to stamp it out."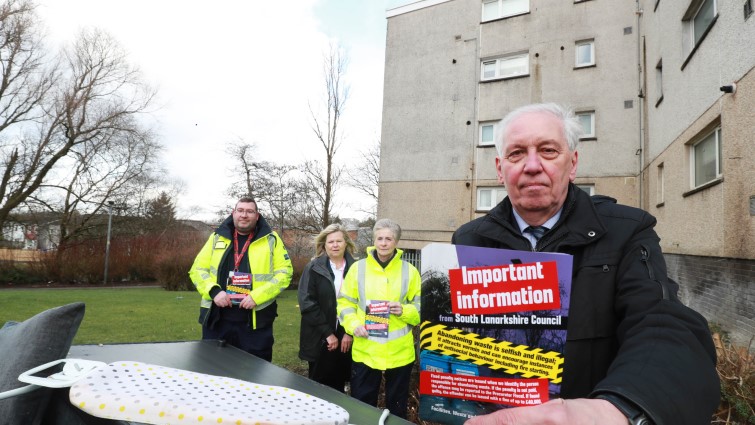 The penalty for dropping litter in Scotland is currently £80 in the form of an on-the-spot fine. Council officers have the powers to issue the fines and urge those concerned about areas or issues near them can find out more information on our litter, bins and street sweeping page or by calling 0303 123 1020. Reported fly tipping incidents are investigated with action taken when evidence is found. Fines to the value of £200 can be issued as well as referrals to the Procurator Fiscal for more serious offences.
The council's Head of Facilities, Waste and Grounds, Kevin Carr, said: "The blight of littering and fly tipping in our communities has grown in recent years causing detrimental impacts on health and wellbeing, the economy, and our natural environment as well as diverting time and money that could be used elsewhere rather than wasted clearing up after those few selfish people in our communities who continue to litter their own areas.
"We cannot tackle this problem alone so we are asking everyone to play their part to make South Lanarkshire a cleaner place to live, work and visit."
For more information on reporting issues and what you can do to help keep your community clear from waste please go to our Fly-tipping information pages.