Initiatives in Lanark help improve air quality
Published: Wednesday 15 March 2023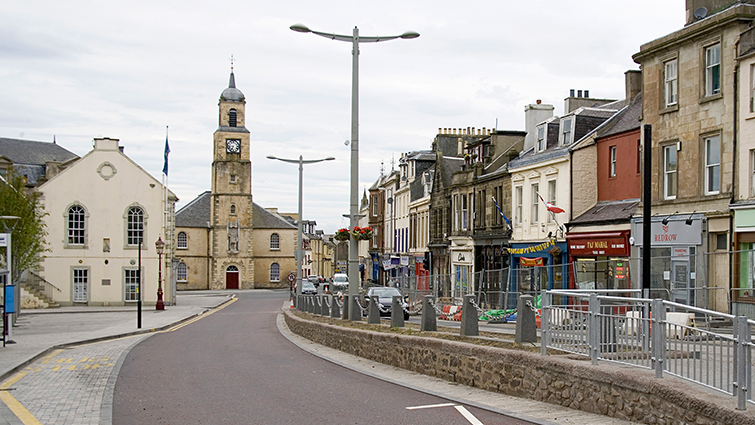 A number of initiatives to improve the air quality in Lanark have been successful.
It means that there is no longer a need for the town to be classified as an Air Quality Management Area (AQMA).
The AQMA was first introduced in 2016, with councillors regularly updated on the progress of an Air Quality Action Plan since that time.
Measured Nitrogen Dioxide concentrations have declined over recent years, and the council has already consulted with SEPA who have agreed the Lanark AQMA should be revoked.
The next steps are that the council consults with other statutory consultees, businesses, members of the public and other interested parties.
Once the consultation process has been completed, the Revocation Order would then be submitted to the Scottish Government for information.
Chair of the council's Community and Enterprise Resources Committee, Councillor Robert Brown, said: "I am pleased that the work that has been done over recent years means we can now move to the next stage of revoking the Lanark AQMA.
"A lot of thought and hard work has gone into this and it is to the credit of officers working across Community and Enterprise Resources that we are now able to take these steps.
"The situation with regards the air quality in Lanark will continue to be reviewed to ensure Nitrogen Dioxide levels remain within the acceptable parameters."
Some of the initiatives that have helped the AQMA be revoked include:
Beat the Street and Lanark on the Move which support the uptake of active and sustainable travel choices for short local journeys.
Improvements to traffic flow to ease congestion in sensitive locations, along with improvements to traffic signalling.
Electric vehicle charging was introduced in Lanark to support the transition to lower emission vehicles.
A number of engine idling campaigns and vehicle emission testing events have taken place locally to increase awareness of the impact vehicle emissions can have on health.
The local projects are supported by South Lanarkshire wide initiatives including fleet and emission tailored support to fleet and taxi operators through the Eco Stars project.
Support to encourage the uptake of cycling via the Love to Ride South Lanarkshire project as well as South Lanarkshire's walking and cycling campaign.