Provost's Christmas Message 2022
Published: Friday 23 December 2022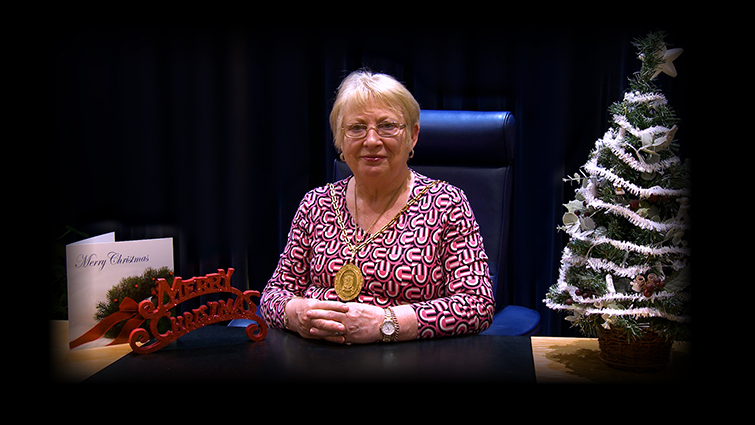 Our Provost has recorded her Christmas message for all South Lanarkshire residents.
A video of the message is available on the council's YouTube channel:
Provost Margaret Cooper said: "The warmest of festive greetings to you all.
"I would like to take this opportunity to wish you, and your nearest and dearest, a very Happy Christmas.
"The last few months have been a very busy one for me personally, since I became Provost in June of this year it has been a real privilege getting out and about and meeting so many people from across South Lanarkshire.
"Part of my job is to chair meetings of the full Council and we have had many decisions this year about the cost of living crisis. I am proud that we at the council have been able to help by offering supports worth £96 million pounds this year alone.
"There is still a lot more work to be done of course, and we will continue.
"Along with North Lanarkshire Council, we welcomed 88 couples from Lanarkshire to the council's Head Quarters in Hamilton to celebrate their Golden Wedding Anniversaries. It was a fantastic afternoon, with much laughter and dancing. I have also been lucky enough to visit several couples who have celebrated their diamond wedding anniversaries this year – 60 years married is a wonderful achievement and one that should be celebrated.
"I have very much enjoyed visits to some of our residents who have turned 100 in 2022 – including one who must have been among the first to receive a letter from our new King Charles and Queen Camilla, following the sad passing of his mother, Her Majesty the Queen, earlier this year.
"We have also hosted many civic receptions, including one to honour the fantastic achievements of our young athletes during this year's International Children's Games in Coventry.
"This time of year is always one of celebration, but it is often when we remember those who are sadly no longer with us.
"It can be an opportunity to think of those less fortunate than ourselves – and with the cost of living crisis, it's important those of us who can, help those who need it most.
"That, to me, is the true meaning of Christmas.
"So once again, a very Merry Christmas to you all and best wishes for 2023."