Pedal for prizes through to Christmas Day
Published: Thursday 1 December 2022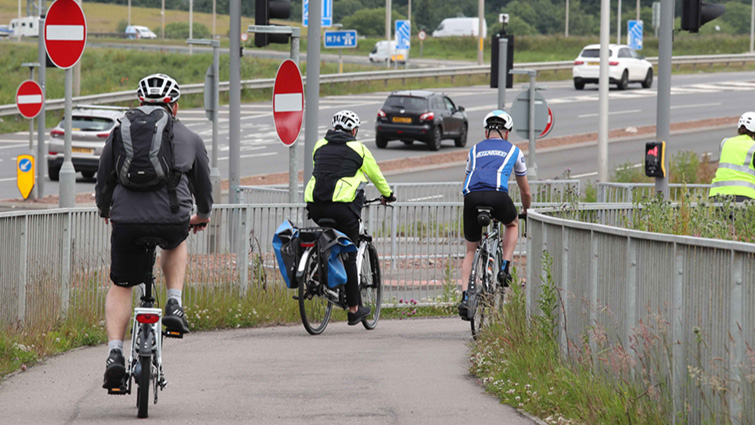 Cyclists in South Lanarkshire could receive a text on Christmas Day to say they've won an extra present – a bike worth £1000.
Winter Wheelers, a cold-busting health-boosting competition aimed at helping more people of all ages and levels of fitness to realise that cycling in winter needn't be a daunting prospect, is being presented by the council's Environmental Services and Love to Ride for the second year in a row.
Running from 1 to 25 December, Winter Wheelers shows riders that, with a little preparation, every day is a biking day and can help improve air quality and help improve people's health and wellbeing at the same time.
And the rewards are for everyone – just a single ten-minute ride earns an entry for daily prizes or even the grand prize on Christmas Day.
Taking part is easy, with participants needing only to register for free and log any bike rides undertaken between the start of December and Christmas Eve before 3pm the following day.
As well as the grand prize of the £1000 bike, there's a host of great daily prizes including bike clothing, accessories and even free coffee.
Up-to-date details on the prizes can be found on the dedicated South Lanarkshire section of Love to Ride's website.
Councillor Robert Brown, Chair of Community and Enterprise Resources at South Lanarkshire Council, said: "In addition to the benefits we know cycling has – compared with driving – for the environment and the air that we all breathe, it can also bring great improvements in physical and mental wellbeing.
"The more people who can be encouraged to experience these sorts of benefits from cycling, the better, and Winter Wheelers is a brilliant way to remind people that, even on the darker and colder days of winter, once you get out there you forget your misgivings and realise you are enjoying yourself.
"The prizes on offer are amazing, too – I'd urge as many people as possible to take part and they might even be the one waking up on Christmas Day to a text saying they've won a fantastic bike."
Last year, more than 30,000 people across the UK took part in Winter Wheelers, with a large proportion of them new riders, for it doesn't matter if participants ride every day or haven't been on a bike in years – everyone's invited to join in.
Love to Ride are behaviour-change experts who have refined their approach by helping hundreds of thousands of people around the world get into biking. They offer quick courses and articles with tips and everyone registered can access the tools they need to build their biking confidence, while each rider will receive tailored emails that address their barriers to riding and help them to get in the saddle.
Love to Ride South Lanarkshire is a local 'one stop shop' for anything cycling-related in the local area. Anyone who has cycling information they'd like included – such as led rides, groups and clubs, facilities and training, or routes – is welcome to email it to support@lovetoride.net as the website is intended to be tailored to the needs and wishes of local riders.
Anyone wishing to take part in Winter Wheelers can register on the Winter Wheelers section of the Love to Ride Website, where more information can also be found.