Challenging Poverty comes into focus during week of events
Published: Monday 3 October 2022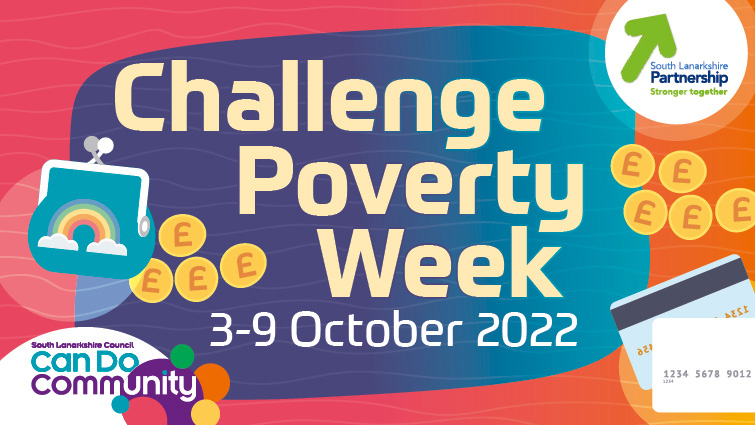 Today marks the start of Challenge Poverty Week 2022.
South Lanarkshire Council and the Community Planning Partnership (CPP) is once again pledging its support to the annual campaign.
Organised by The Poverty Alliance, this year each day of Challenge Poverty Week will focus on a different theme.
Council Leader and Chair of the CPP, Joe Fagan, said: "Times are hard, and getting harder, for hundreds of thousands of people across the country.
"We recognise this and have recently announced a number of measures to help those most affected by the cost-of-living crisis.
"Challenge Poverty Week allows us to focus on the supports that are already out there and focus on what we could be doing better.
"Schools across South Lanarkshire will be having lessons on tackling poverty and inequality and sadly many of our young people are the most affected by the current crisis.
"We will have various free events on over the week, from digital support sessions to information events, and a host of information about what help is available across our social media channels.
"Of course, we also recognise that money is not the only problem, so there are also events which will allow people to concentrate on their mental health and wellbeing."
The Memories Scotland Reminiscence group will be offering sessions at the Avondale Community Wing (Strathaven Library) and East Kilbride Central Library on Tuesday 4 October from 2pm to 3.30pm. Larkhall Library will have their Readers Group taking place on the same day and Rutherglen Library have their Knitting Group also meeting from 10.30am to 12noon.
On Wednesday 5 October Carluke Library have their Knitting Group from 2pm to 3pm and Hillhouse Library have a Craft Group meeting from 10am to 12noon.
On Thursday 6 October Memories Scotland Reminiscence group will be at Hamilton Town House Library from 2pm to 4pm, while Lanark Library will be offering free Digital Drop in sessions all day (appointments are preferred but not essential). Lesmahagow Library will have their Book Group meeting from 3.30pm. There will also be a CommuniTEA Info Event at the Agape Wellbeing Centre, 22 Cornwall Way, East Kilbride, G74 1JR (drop-in from 11am-3pm). Organisations will be present to discuss concerns with the rising cost of energy bills, financial advice and much more.
From 2pm to 3pm on Friday 7 October there will be a talk at Hamilton Town House Library on the charity Mary's Meals.
And a new online resource is available on the council website, offering help, support and guidance regarding finances and wellbeing.