Diamonds are forever as couple celebrate wedding anniversary
Published: Friday 30 September 2022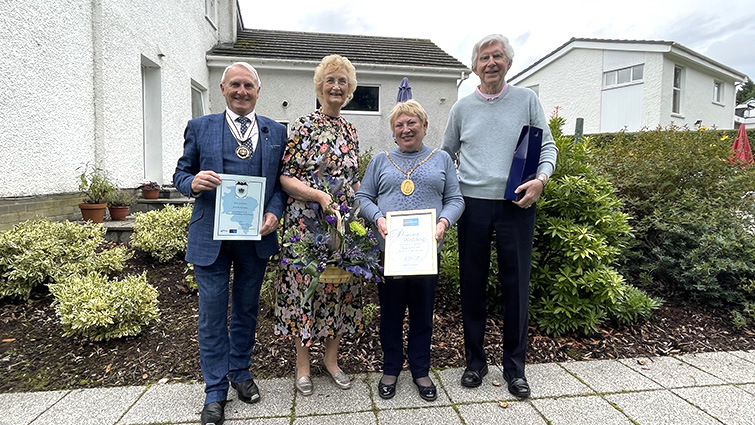 The McCallums have had plenty thrills over the last 60 years but spying has never been on the agenda. Intrigued – then read on…
Alexandra Elizabeth McFadyen (Sandra) and James McCallum (Jim) met at the iconic Plaza Ballroom in Glasgow.
They were married in Cardonald Church on the 22 September 1962. Shortly after they moved to East Kilbride where they have lived ever since.
Jim spent his career working in engineering and manufacturing, first in industry running the Cincinatti Corporation, then Honeywell and latterly as a consultant for various industries across the UK and around the world.
Jim and Sandra agree that they have been married for so long because they have never fallen out of love.
They have always enjoyed travelling, visiting many countries over the years. In the early days they visited many places which were then considered very much off the beaten track. One of their fondest memories was a trip to the former Yugoslavia in the 1960s when tourism was then at a very 'basic' standard – but the welcoming hospitality was unforgettable.
Jim and Sandra have two daughters – Barbara and Dorothy who both live in East Kilbride. Barbara is a business consultant and is married to Adrian. They have one son, Callum, who is 12. Dorothy works for Historic Environment Scotland and is married to Nigel.
Since retiring Jim has written a comprehensive business guide, and as James Hume, published four fiction books which are WW2 spy thrillers.
Sandra enjoys cooking and entertaining, including baking many cakes for their Diamond Wedding.
And on hand to help them celebrate, and eat a few of the delicious cakes, was South Lanarkshire Provost Margaret Cooper, who presented the couple with flowers, a special bottle of whisky and a certificate on behalf of the council. And joining her was Deputy Lieutenant for Lanarkshire John Brown, who also presented them with a certificate to mark their achievement.
The family celebrated their anniversary with a small afternoon tea at home followed by a weekend away in Edinburgh together with Barbara and Dorothy and their families.
If you would like the Provost to attend a Diamond Wedding or 100th birthday please get in touch with the Provost's Office.