Couple celebrate 60 happy years together
Published: Friday 17 June 2022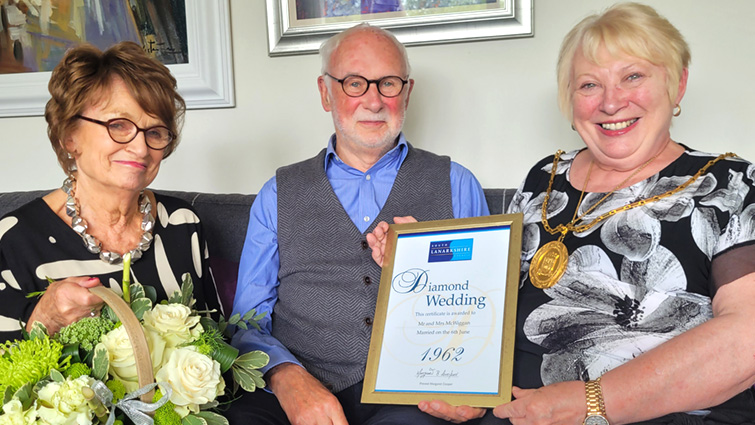 A devoted East Kilbride couple celebrated their Diamond Wedding Anniversary this week.
And helping Graham and Margaret McWiggan celebrate their 60 years of married life together was Provost Margaret Cooper, who presented them with a card, framed scroll, whisky and flowers.
Provost Cooper said: "It was a real privilege to be able to play a small part in Graham and Margaret's special day.
"Huge congratulations to them both and it was an absolute pleasure to hear about their lives together."
Both Graham and Margaret share a love of sports, in particular golf and curling. Graham has been a member at East Renfrewshire golf club for many years and Margaret also enjoys getting out on the fairways.
The couple have also served on numerous curling club committees, with Margaret travelling abroad several times to play against other teams. She was a member of the Busby flower club and enjoys playing bridge socially.
Graham is a retired architect, having had his own firm with offices in Glasgow and Inverness for many years.
Margaret worked in the American consulate in Glasgow until starting a family.
The couple have three daughters – Ailsa, Lara and Emma, and six grandchildren.
If you would like the Provost to attend a Diamond Wedding or 100th birthday please get in touch with the Provost's Office.